Wood Crane
V 1.0.0.0 mod for Farming Simulator 22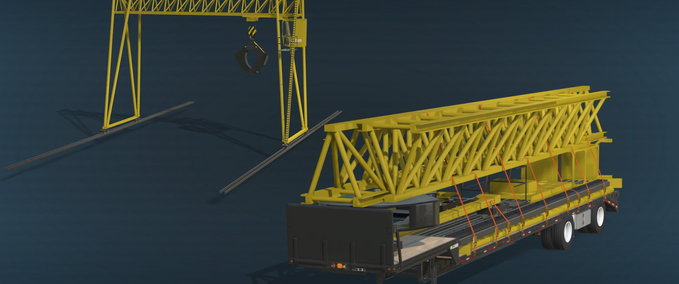 description
This is rail wood crane for loading and unloading tree logs. It has big grapple so you can grab many logs at once.
It comes to your store folded on trailer. Drive the trailer to the place you want and unfold it as standard implement.
- Design configuration: Standard or Extended arm
- Color selectable
- Working lights

Price: 110000 / 120000 $
Rail range: 35m
Max lift: 6m

IMPORTANT:
- Crane will unfold to the right of the trailer
- Be sure to unfold it on flat ground and unfolding area is empty
- Before you can fold it back you must park trailer exactly on the same place before you unfolded it (otherwise crane physics will not load to the trailer)
- Dont use indoor and work camera before unfolding crane (those will not work)

Default controls:
Crane left/right - AXIS_CRANE_ARM
Cab forward/backward - AXIS_CRANE_ARM3
Grapple up/down - AXIS_CRANE_ARM4
Rotate grapple - AXIS_CRANE_TOOL2
Close/open grapple - AXIS_CRANE_TOOL

If you find any errors or issues, let me know in comment or to kenny456@seznam.cz and i will fix it in next version.
Credits
Model: kenny456
Texture: kenny456
Idea / Concept: kenny456
Testing: kenny456
Other: kenny456
changes
24 Jan 15:15

Version 1.0.0.0
Empfehlungsrate
-/-
noch nicht genug Stimmen
Do you think this mod should be featured?
}