XLFarms X3 Final Edition
V 6.1.1.5 mod for Farming Simulator 17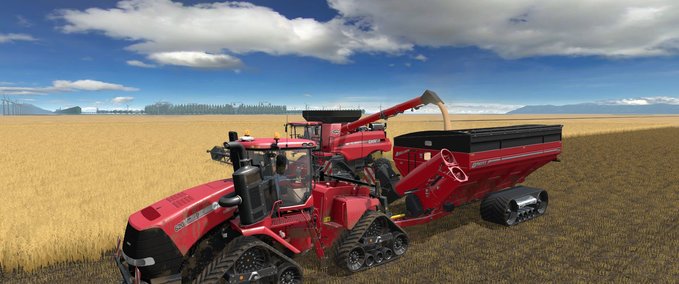 description
This is the final version of the 16x XLFarms X3 map. The map has a new topography based in the north of the USA. It has new textures and details in general.   Features 22 Standard fields of 256ha 4 Standard fields of 64ha Wind Energy Park Single main farm with: Large garage for storing large machines Fuel station Fertilizer and seed station Local point of sale (Inside the main farm) Large capacity storage point 2 storage points with direct loading for the trains Point for sale of strawbale Free area for mods placement (DLC Straw suggestion) Ample complex of sales of grains with: 2 places of sale 2 places of sale for trains   Enjoy!
Credits
Sukup grain bin pack (main farm silos) 
Model & Texture - ThompsonM06 
Developed & released by LazyMod Studios FSD 
Isotope/BigCountry/Looseterror/TwistedGA/ThompsonM06/mwlacy 
Bio-Diesel Raffinerie
by auwgl
Bauer heini
by Shell Tankstelle
AnhydrosFacility from the map
FS17_LoneStarV1 by rmckinney
Station wash 9M kaercher HDS-C 8 / 15E:
Blacksheep Modding
Doors from the mod MachineShed100x50
Models, Textures, Sound
by SickleBandit
New Texture:

Eribus (LS-Modcompany)  
changes
26 Oct 18:34

Version 6.1.1.5

- Fixed shed lights
- Fix FARM_SILO storageRadius*
- Fixed: overhead power towers on X3 maps
You do not need to start a new save game. :)

20 Oct 20:08

Version 12.3.2

Fixed shed lights
Fixed overhead power towers
You do not need to start a new save game.

20 Oct 20:03

Version 12.3.2

Fixed shed lights
Fixed: overhead power towers on X3 maps
You do not need to start a new save game

08 Oct 22:09

Version 12.3.1

Bug fixs
Clean log!
Review of all triggers (stations)
storageRadius set to 500
WINDROW_STORAGE triger fixed
fix PDA map size

28 Aug 17:35

Version 11.3.1.5

Several improvements to a final release.

11 May 18:40

Version 10.3.1.3

New relief based on real topography
Review and complete replanning of the main farm
Complete review of all points of sale and prices and variations based on the original
Added greater capacity for fruit storage with cost of 0.001 / L
New ambiance and detailed decoration
Object Optimization
New mountains and extreme borders at the edges of the map
Correction of various bugs

31 Dec 23:53

Version 5.3.1.1

Added sugarcane (Requires DLC Platinum Edition)
Revised all points of sale
Prices revised in all seasons
Disable price drop in all seasons
Added new waterplane
Added new objects
Removing some objects
Readaptation of objects
Restoration of vegetation
General Object Review
Overall field review
Generated a new collisionMap
Fix other small bugs

26 Oct 20:55

Version 4.3.1.2
Files
| | |
| --- | --- |
| checksum: | 19085b18ebeaa6b33c00d981e5259d16 |
| Version: | 6.1.1.5 |
| multiplayer ready? | yes |
| Author: | MoslessNeo |
| price in shop: | LS |
| name in shop: | XLFarms X3 Final Edition |
| description in shop: | This is the XLFarms X3 Final Edition |

Do you think this mod should be featured?
Unterstütze den Entwickler!
Jetzt mit PayPal spenden
}