Zen Prodigy
V 1.0 mit Dünger(hotfix) mod for Farming Simulator 17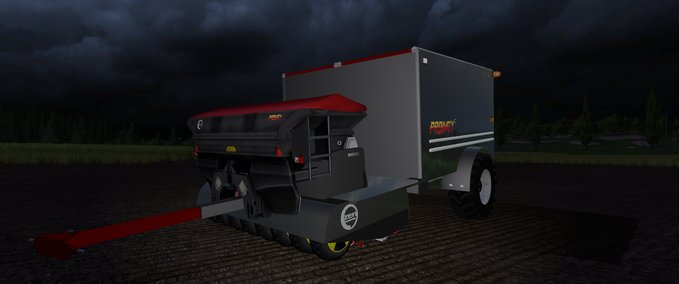 description
featured
Type: Sowing machine
Build year: In far future ;)
Working speed: 30 kmph (subject to modification)
Working width: 17 meters
Power needed: 270HP/~184kW (subject to modification)
Price in shop: 120.000 €/$/£
Price per day: 150 €/$/£ (subject to modification)
Seeds: Wheat, Barley, Rape, Sunflower, Soybeans, Maize, Sugarbeet, Oil Raddish & Grass (subject to modification)
Seed capacity: 3.000 Liters
Other's: Helpfer, working; Ridge-Marker: Laser(activatable when fully folded out); Beacons
Washable: currently not, it is currently untouchable from soil ;)
Multicolor: in Work
From originals mod description:
Years of our scientists research in field of military technology bring us many practical solutions. ZEN INDUSTRIES decide to bring that technology to ordinary people.Laser guiding systems, Nanotechnology, Microwave technology and many more advanced projects we implemented in one sowing machine. We present you real PRODIGY in field of agriculture.No more limits in type of seeds, increased working speed and compact design, that's all ZEN Prodigy brings to you.Cultivate and sow your fields in fast and easy way.ABOVE ALL ... PROTECT YOUR EYES ... DO NOT LOOK INTO THE LASER BEAM OR ITS REFLECTION!!!
 
Colors:
Since this is my first convert from FS13 it's currently only avaible in Black/Red. V2 will be avaible in all 3 Colors
PLEASE DO NOT UPLOAD THIS MOD TO OTHER SITES WITHOUT REAL NAME, NAME OF AUTHOR AND CREDITS.  I REALLY LIKE TO SHARE BUT CHANGING NAME OF MODEL, NAME OF AUTHORS OR NOT ADDRESING SOURCE SITE IS STEALING  NOT SHARING!
Author: Zen
Converter: H3draut3r
 Known Bugs:
Soybeans are double-listed, this is kinda bug by the multifruit-implement
Credits



Modell: Zen aka Zenchina 
Textur: Zen aka Zenchina 
Script: Zen aka Zenchina 
Idee / Konzept: Zen aka Zenchina 
Tester: LandFrauLucie, Pixelschreck
Sonstige: Giants (Beacons/Light), LS-Schrauberbox (Lichtquellen-Problem)



changes
08 Nov 20:09

Version 1.0 mit Dünger(hotfix)

Dünger-Hotfix.... nun richtig ;)

08 Nov 18:05

Version 1.0 ohne Dünger

- Lichtquellen für höhere Grafik nun am leuchten wie se sollen (Danke an LS-Schrauberbox)
- kleinere Anpassungen

ToDo: Multicolor, Waschbar

08 Nov 14:15

Version 0.95beta

- Spurreißer nun mit vorhanden... ENDLICH -.- die dinger haben Nerven gekostet
- einige kleinere Anpassungen

ToDo: Lichtquellen und Multi-Color

06 Nov 13:49

Version 0.9beta

Do you think this mod should be featured?
}