Zunhammer manure transporter
V 1.0 mod for Farming Simulator 2013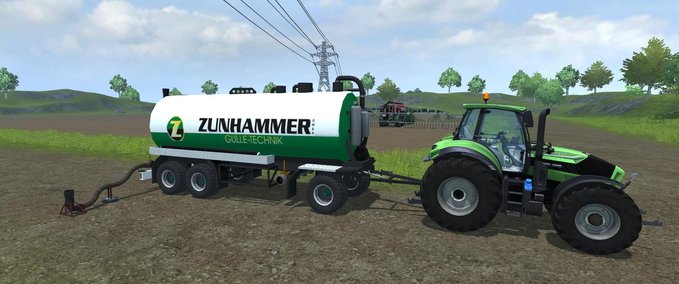 description
Präsentiert

Zuhnhammer Gülletransporter
Für den zuverlässigen und schnellen Transport von Gülle bei längeren Fahrtwegen von der Ladestation zum Ausbringungsfahrzeug. Steigern auch Sie mit diesem Zunhammer Transportfass, mit seinem Fassungsvermögen von 24.000 L, die Effizenz Ihres Betriebes.

Solltet ihr Fragen haben wendet euch bitte an uns, www.LS-Landtechnik.de da werden wir euch gerne helfen. Bitte habt Verständnis das wir kein Support per PN leisten.
Der Mod darf auch auf anderen Seiten zum Download angeboten werden, aber nur unter
Verwendung des Originalem Downloadlinks! Der Mod darf ohne Zustimmung des Ur-Modders
nicht verändert oder neu hochgeladen werden!
This mod may be offered for download on other sites , but only by using the original download links.
The mod may not be altered or re-uploaded without the consent of the original modders.
Credits
Original Modell & Textur: daniel11, Arnold, Sk8Mike
Umbau: LS-Landtechnik, The Freak
Script: Outlaw, Hummel
Files
checksum:
7b6052321bcfe6ae1fa8ebee8a2fa677
Version:
1.0
multiplayer ready?
no
Author:
LS-Landtechnik
price in shop:
45000 LS
name in shop:
Zunhammer Zubringer
description in shop:
Zuhnhammer Zubringerfass
Original Modell and Textur: daniel11,Arnold,Sk8Mike
Umbau: LS-Landtechnik,The Freak
Script: Outlaw, Hummel

Do you think this mod should be featured?
}