Buy all Fruits Silo
V 1.3 mod for Farming Simulator 17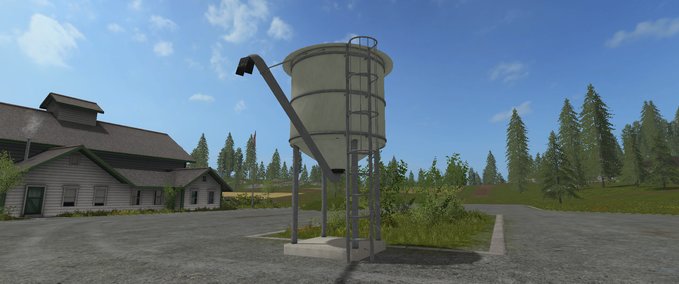 description
featured
Buy all Fruits Silo UPK LS17
Beschreibung:
Heute habe ich für euch eine frei Plazierbares Silo mit dem ihr alle Fruchtarten KAUFEN könnt! Der Preis richtet sich nach dem Preis die die Früchte auf der Map haben! Der Mod ist eig dafür gedacht das man schnell mal zb. einen Anhänger Testen kann...
Eingetragene Früchte sind -> wheat barley rape sunflower soybean maize potato sugarBeet fertilizer manure seeds forage chaff woodChip silage pigFood dryGrass_windrow straw
Auch bei diesen Mod braucht ihr das UPK! Hier könnt ihr die aktuellste Version Downloaden!
-> http://http://download.universalprocesskit.de//
Benutzung: Einfach den UPK im Modordner schieben und im Spiel Aktivieren
Wenn ihr keine Uploaded Links mehr möchtet bitte ich euch eine kleine Spende da zu lassen! Das hilft mir ungemein bei der erstellung von neuen Mods! Davon werden dann Modelle, Texturen oder auch Photoshop bezahlt das für dass Modding sehr wichtig ist!
Sonstige Informationen:
Euer Feedback ist mir wichtig, deshalb schreibt in die Kommentare was euch gefällt oder was euch weniger gefällt! Wichtig ist mir hierbei das ihr Konstruktive Kritik übt, alles andere wird gelöscht oder Ignoriert! Lasst auch eine Bewertung und Empfehlung da wenn euch der Mod gefällt, dauert wirklich nur 5 Sekunden ;)
Sonstige Credits:
mor2000
Problembehandlung:
Wenn ihr Probleme mit der Mod habt, könnt ihr mir direkt eine Persönliche Nachricht schreiben mit eurer "Log.txt" Datei im Anhang und einer Ausfühlichen beschreibung eueres Fehlers! Ohne eure Log Datei kann ich euch nicht helfen und es wird um einiges länger dauern bis ihr den Mod im vollen umfang nutzen könnt!
Respect for Modder?
Da ich es nicht verhindern kann das der Mod auf anderen Seiten auftaucht, bitte ich euch aus Respekt vor der arbeit die ich mir gemacht habe, den Original Download Link zu verwenden!!!
RESPECT MODDER,
PLEASE USE THE ORIGINAL DOWNLOAD LINK, THANKS!
Credits
Modell: t0xic0m
Textur: t0xic0m
Script: t0xic0m
Idee / Konzept: t0xic0m
Tester: t0xic0m
Sonstige: t0xic0m
changes
19 Dec 17:45

Version 1.3

Neue Fruchttypen

11 Dec 18:30

Version 1.2

Neue Fruchttypen
liquidManure digestate water fuel milk
Wenn vorhanden -> compost

11 Dec 10:28

Version 1.1

Fülltypes Grass und Holz Hackschnitzel hinzugefügt
Modell bearbeitet, jetzt kann man auch mit dem größten Anhänger seine Fruchtarten holen

10 Dec 19:18

Version 1.0

Do you think this mod should be featured?
Unterstütze den Entwickler!
Jetzt mit PayPal spenden
}