Claas Lexion 530-540 SERIES
V 2.0 mod for Farming Simulator 19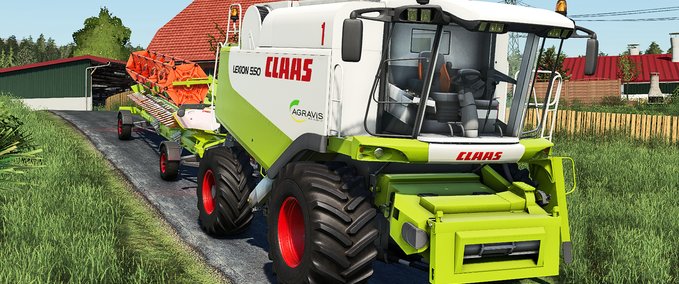 description
featured
Hello Farming Simulator Comunnity! I Want To Introduce My Second Mod In LS19 Claas Lexion 530-540. Completely adapted to the requirements of LS 19.
Mod has cost me a lot of work, time and nerves. The mod has to look good, so a lot of work has been added to the model and textures. The model is very detailed. It's all in the PBR system. The log shows an error I could not fix :(. I will try to fix it in the v2 version!: D
The mod is programmed to work all functions of LS 19. Currently there is no work well, interesting scripts. But the mod has some animation pieces that I have planned for V2;)
Important! This is version 1.0, please note the possibility to find bugs!
In the pack:
Claas Lexion 530-540
Claas C600
Claas Conspeed
Claas Cutter Trailer
Claas Lexion 530-540 features:
* All basic functions of LS 19
* 2 engine versions with different power (530 and 540)
* Full, real washable texture
* Complete wheelset (Michelin + Trelleborg) Normal, wide.
* Full lighting
* Animated hydraulics
* Animated joystick
* UDIM texture
* Indoor Huds
Finally, I would like to thank all the people who helped me with this project. Thanks to all the help and tips.
Please respect my work.
Please do not edit this version!
Please keep only my download link!
Credits
Modell: IPF, schöwdel
Textur: schöwdel
Programming: schöwdel
changes
12 Apr 13:09

Version 2.0

- Hinzugefügt Mähdrescher Claas Lexion 550
- Hinzugefügt Schneidwerk Claas Vario 750
- Hinzugefügt Zahlen konfigurationen
- Hinzugefügt Nummernschild
- Hinzugefügt Neue Logo Konfiguration
- Hinzugefügt Öffnete die Tür
- Neue Fahrphysik
- Fixed alle anderen Fehler ...

29 Mar 22:53

Version 1.0
images
Do you think this mod should be featured?
}