Fed Mods Pack
V 1.5 Ackerschacht, Brunnen und neue Ballenhalle mod for Farming Simulator 22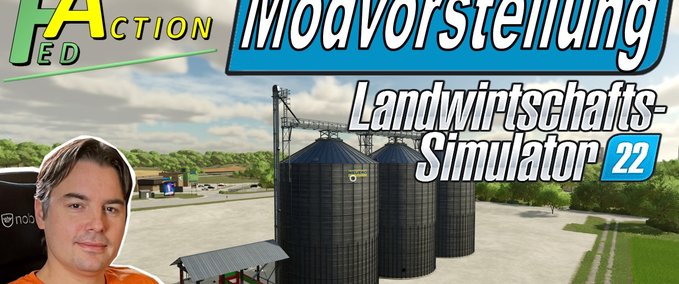 description
Moin folks,
Better late than never. This is now my FED Mod Pack. The package is a summary of all platziebare mods from me.
.
The Fed Mods package currently consists of
.
6 Multisilos with bale intake + 4 expansion silos
.
Lime station for purchase and storage of lime e.g. at the farm
.
Plant protection station for purchasing and storing herbicides e.g. at the farm
.
Wood direct sales for the one-off sale of logs
.
More mods will follow in the coming weeks / months.
Have fun with it
.
Greetings
FedAction
Credits
Idee / Konzept:  FedAction


changes
22 May 15:58

Version 1.5 Ackerschacht, Brunnen und neue Ballenhalle

- Ackerschacht, Brunnen und Hydrant um kostenlos Wasser laden zu können
- Neues Ballenlager für Gras, Stroh, Silage, Heu, Luzerne und Hackschnitzel mit Aussage von Ballen nach Wahl oder lose
- Bestehende Ballenhalle etwas verschönert was die Ballenstapel angeht

08 May 21:33

Version 1.4 Neue Ballenlagerhalle

- Fehler Werkstatt Trigger Indoor Area gefixt
- Hackschnitzelballen lassen sich nun nicht mehr in der Ballenlager Halle bewegen
- Ballenlager mit Script von Achimobil umgebaut. Ballen werden nun nach Füllstandsanzeige angezeigt

26 Apr 21:32

Version 1.3.1 Fahrzeug Werkstatt Trigger

Mods Pack 1.3
- Neuer Fahrzeug Werkstatt Trigger auch als Erweiterung für Produktion Werkstatt geeignet
- Flüssigkeitslager Diesel tanken jetzt für alle Fahrzeuge
- Ballenlager erwkennt jetzt auch Hackschnitzel Ballen

Mod Pack 1.31
- Gesamtlagerkapazität Ballenlagerhalle berichtigt und Log Fehler "Warning: UnloadTrigger has invalid fillType" gefixt (danke an Achimobil)

09 Apr 16:50

Version 1.2 Ballenlager und Flüssigkeitenlager

Mod Pack 1.2
Neues Flüssigkeiten Lager zum Lagern von Wasser, Diesel, Adblue, Flüssigdünger, Herbizide, Milch, Siliermittel, Gülle und Gärreste
Ballenlager Halle zum Lagern von Ballen oder loses Stroh, Gras, Silage, Heu und Luzerne. Ausgabe in Ballen jeglicher Art (Dank Script von Achimobil) oder auch lose möglich
Neues XL BGA Durchfahrsilo
Wände vom BGA Keilsilo erhöht und verbessert
Die 3 kleineren Silos werden nicht mehr als Siloerweiterung erkannt
Diverse empfohlene Textur Verbesserungen

Fed Mods Pack 1.1
- BGA Keilsilo mit Annahme von Luzerne
- Silos um Luzerne Ballen erweitert

14 Feb 14:41

Version 1.0
images
Files
Empfehlungsrate
-/-
noch nicht genug Stimmen
Do you think this mod should be featured?
V 1.5 Ackerschacht, Brunnen und neue B...
V 1.4 Neue Ballenlagerhalle
V 1.3.1 Fahrzeug Werkstatt Trigger
2 ältere Versionen
}