Fliegl giant ASW 271
V 2.2 mod for Farming Simulator 17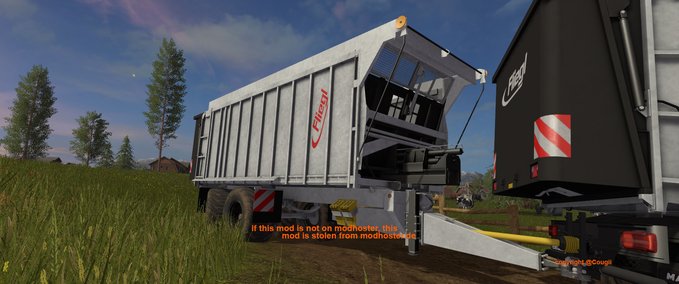 description
featured
Day
Here is now the expected Fliegl ASW Tandem. He is called ASW 267 and not 268, because he does not look 100% like the ASW 268. The ASW 268 was taken as a model.

The harvesting carriage is used to transport the crops. It is particularly suitable for fast transport. As he pushes the load backwards, the Fliegl ASW can also be used well in flat buildings and unloading points.

------ Version 1 ---------------------------------------
Vehicle information Version 1:
Chassis: Tandem with steering axle


Construction: Fliegl ASW gray / green

Purchase price: 37.500 €

Daily cost: 15 €

Capacity: 34500l

Special features Version 1:
Selectable colors for the rims

Fliegl design in green or black

Foldable drawbar

Tree trunks can be reared


Selectable tire profiles agricultural / tractor profile)

Working light to front and sides

Unloading via tailgate or grain slider
Small, insignificant things on the edge (version 1):
If the trailer is reconfigured on a trigger, the support foot may sometimes wedge in the ground (reset necessary).

The small grain slider is not animated.
The truck from one or the other picture is here: https://www.modhoster.de/mods/man-tgs-8x8-mit-fliegl-aufbau
And now: have a lot of fun.
MfG, Cougii
PS: No re-host and so !!
Credits
Modell: GIANTS, Klawkalash, Cougii, 
Texturen: GIANTS, Klawkalash, Cougii
Tester Singleplayer: KingQuantum, Cougii
Tester Multiplayer: Joe_Matthew, Malle, Cougii
Licht-Coronas von Ziberg
DynamicHoses von bm-modding
addStoreCategory von Ifkonator
NumberPlates von Blacky_BPG
changes
21 Jan 20:23

Version 2.2

-InputBinding hinzugefügt

04 Sep 17:54

Version 2.1

-KFZ-Kennzeichenscript hinzugefügt

29 Aug 11:37

Version 2

- Laderaumabdeckung hinzugefügt
- Miststreuer hinzugefügt

23 Jul 01:47

Version 1.1

- Aufsatz ist nun kaufbar
- Namensänderung zu ASW 271 Compact

10 Jun 01:46

Version 1
Files

Do you think this mod should be featured?
}