FS19 Cornbelt 16x Beta Version 0.8
V 0.9.0 mod for Farming Simulator 19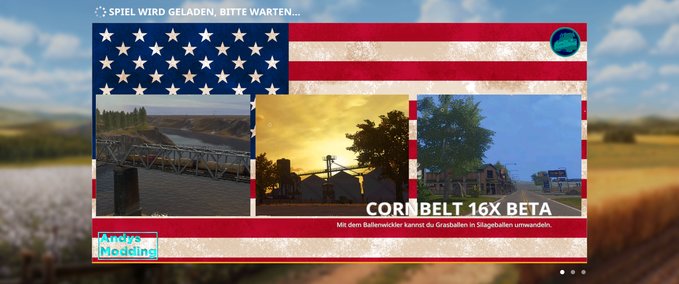 description
Hello community, hello fans of the Cornbelt,
It's finally here! The first beta version of the Cornbelt is released and am very excited to see your reaction and comments. The goal was really just to reactivate the productions from LS17. But somehow it has become much more of a change than I had originally planned.
.
At this point I would like to thank Kastor again, that I was allowed to change his map and make it available for you to download. Also a big thank you goes to the FED Action for letting me use his europalettes and the boardpalettes. Last but not least I want to thank the testers of the map, the Maik, John and the Daniel.
Now for the details of the map:
It is still a 16x mod map
.
There are only 65 hexes
now.
There are now 11 forestry areas
instead.
3 BGA's
There are a total of 7 purchasable industrial areas, with only 4 productions currently available
.
There are 17 outlets on the map
.
And many products that are Global Market Ready.
The following mods are recommended but not required:
AM Tuning Pack
AM Placeable Pack
AM Production Pack
You can report bugs via my DC server at: https://discord.gg/AXkD6aEWeW
FOLLOWING POINTS ARE FORBIDDEN:
Posting the map on other portals or forums without using the original download link!!!
The map may only be modified with the written consent of the Kastor and ANDYsMODDING!
Credits
Modell: Kastor, FED Action, ANDYsMODDING
Textur: Kastor, FED Action, Gaints, ANDYsMODDING
Script: Ifko
Idee / Konzept: Kastor, Edit durch ANDYsMODDING
Tester: Ostseefarmer, 21John, schnellbauer, Kompie21 & FarmManager_, 
Sonstige: 
changes
07 Jun 19:44

Version 0.9.0

Änderungen Cornbelt 16fach Beta by ANDYsMODDING Update auf Version 0.9.0

gefixt! particleSystemShader ist jetzt eingebaut
gefixt! Texture Probleme beim Saatgutlager
überarbeitet! Alle Silos an den Bahnhöfen überprüft und Silovolumen angepasst! Gras, Heu & Stroh wurden hinzugefügt.
gefixt! Höhenmap wurde mal überarbeitet. NUR BEI NEUEN SPIELSTÄNDEN!!!
überarbeitet! Die Früchte Luzerne und Feldgras wurden überarbeitet und angepasst!
überarbeitet! Die Züge wurden überarbeitet und Tankwagons wurden hinzugefügt. NUR BEI NEUEN SPIELSTÄNDEN!!!
überarbeitet! Die Ranch wurde teilweise umgebaut und neu aufgebaut. Es wurde weitere Hallen hinzugefügt.
NEU!!! BGA auf der Ranch komplett umgebaut und einen weiteren Bunker hinzugefügt. NUR BEI NEUEN SPIELSTÄNDEN!!!
überarbeitet! SessonsMask wurde an den neuen Hof und BGA angepasst!

FOLGENDE PUNKTE SIND VERBOTEN:

Die Karte darf nicht in anderen Portalen oder Foren ohne Verwendung des Original Downloadlinks gepostet werden!!!

Die Karte darf nur mit der schriftlichen Zustimmung vom Kastor und ANDYsMODDING geändert werden!

30 May 20:50

Version 0.8.9

Änderungen Cornbelt 16fach Beta by ANDYsMODDING Update auf Version 8.9




2 neue Farmland im Canyon und am Fluss hinzugefügt!

Farmländ von Feld 65 gefixt!

Futterherstellung hingefügt!

hinzugefügt! Vermehrungsgras und Feldgras als neue Fruchtsorten eingebaut!

hinzugefügt! Bäume bei Feld 9 & 10 angepflanzt

Raps, Sonnenblumen & Sojabohn wurde Stroh hinzugefügt!

hinzugefügt! Farmland bei Feld 43 & 49 kaufbar gemacht, so das der Wald bzw. Palmen jetzt abgeholzt werden können.


18 May 16:20

Version 0.8.89

UPDATE FS19 Cornbelt 16fach BETA Version
Version 0.8.89 NEW
Letzte Aktuallisierung am: 18. Mai 2021
Hallo Community, hallo Fans der Cornbelt,
Es gibt ein erstes Update zur Beta Version. Bitte nach dem runterladen die Datei entpacken und dann nur die Datei fs19_cornbelt.zip in den Modordner schieben.

Was wurde genau geändert? Das findet ihr unten in der Liste:

Änderungen Cornbelt 16fach Beta by ANDYsMODDING Update auf Version 8.89
gefixt! Man kann jetzt auch ohne Seasons Objekte plazieren und wieder verkaufen.
gefixt! Felddefinition Feld 1
gefixt! Feldwege an einigen wieder auf die Breite der anderen Feldwege angepasst.
gefixt! Bahnübergang oberhalb von Feld 54 Gelände angehoben!
hinzugefügt! Gelände wo früher die Schafsfarm und jetzt das Zwischenlager Nord kann man jetzt kaufen!
hinzugefügt! Bäume bei Feld 1, 2, 3, 5, 6, 11, 49, 51, 56 und weitere Bäume beim Farmgelände Nord hinzugefügt!
hinzugefügt! SeasonsMask BGA Süd, Sägewerk & Holzstammlager
hinzugefügt! Bahnübergang Feld 3!
hinzugefügt! Bahnübergang Feld 30 neben der Milchverkaufsstelle
hinzugefügt! weitere Bereiche eine SessonsMask auf der Karte hinzugefügt!
hinzugefügt! Fehlende fillTypes in die Map FillTypes geschrieben.
hinzugefügt! Neue Farmgelände einmal im Nordwestlichen Canyongebiet und am Fluss

04 May 23:24

Version 0.8.21.05.04
Files

Empfehlungsrate
-/-
noch nicht genug Stimmen
Do you think this mod should be featured?
}