Grain Mill Plus
V 2.0.0.1 mod for Farming Simulator 22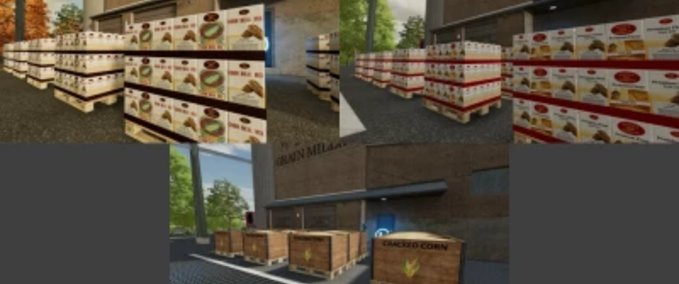 description
Changelog 2.0.0.1
- Fixed conflict that removed food types from all other animals.

Grain Mill Plus
Added Features:
- Added ability to grind Corn into Corn Meal and Cracked Corn.
- Custom made textures for Cracked Corn and Corn Meal.
- Corn Meal is put on pallets to sell and Cracked Corn is stored in the silo at the Grainmill.
- Added Cracked Corn to the "bulk" and "farmSilo" categories so it can be stored in any farm silo and carried in any trailer or shovel.
- Corn Meal and Cracked Corn can be sold with the included placable sellpoint.
- Cracked Corn can also be used to feed chickens in maps that are set up to do so.
- Modders are free to use my textures and additions in this mod to add Corn Meal or Cracked Corn to their maps for chicken feed, mods, etc. I only ask that I get credit for my work.
- Pallets of Cracked Corn can be purchased at the shop to use as chicken feed in maps set up to use it.
- Increased the pallet spawner capacity to hold 18 pallets.

- Prices:
- Grain Mill Plus - $196,000
- Cracked Corn and Cornmeal sales point - $15,000
- Cracked Corn pallet - 2,000 liters, $950
- Cracked Corn Bin - 4,000 liters, $1,750

- Input storage Capacities:

- Wheat, Barley, Oats, Sorghum, and Corn - 570,000 liters

- Output storage Capacities:

- Cracked Corn - 500,000 liters
- Flour and Cornmeal - 300,000 liters

Changelog 1.0.0.1
- Updated Cracked Corn textures.
- Added Cracked Corn bins which can also be purchased at the store.
- Bins of cracked corn are now produced in addition to being stored in bulk in the silo.
*NOTE: To have the Cracked Corn stored in the silo, and not produce bins, the output must be changed in the productions menu from "Storing" to "Distributing" so Cracked Corn bins will not be produced.
- Added ability to remove un-milled grain from the Grain Mill's silo.
- Other minor adjustments.

Changelog 2.0.0.0
- Completely remade the Grain Mill's building and layout with many new custom modeled buildings and additional visual edits.
- Updated all of the textures.
- Created a separate unloading area for the un-milled grains.
- Remade the sellpoint to include a custom modeled sales building.
- Chickens in ANY map can now accept Cracked Corn and follow the updated feed schedule.
- Fixed issue that Cracked Corn could not be dumped on the ground.
- Changed chickens feed settings to allow them to be productive having one food type instead of all 3 types to be productive.
*NOTE Chickens still need all 3 categories of food to be 100% productive.
- Added Cracked Corn to pigs base grains.

* NOTE: Since the physical area is larger and in a different setup than the original version, you may need to do some landscaping to match up with the new design or the old version can be sold and re-built with the new version.
Credits
Macktrucker921
changes
22 Nov 00:03

Version 2.0.0.1
Empfehlungsrate
-/-
noch nicht genug Stimmen
Do you think this mod should be featured?
}