Hermanns Eck - Welcome to the green valley!
V 2 mod for Farming Simulator 17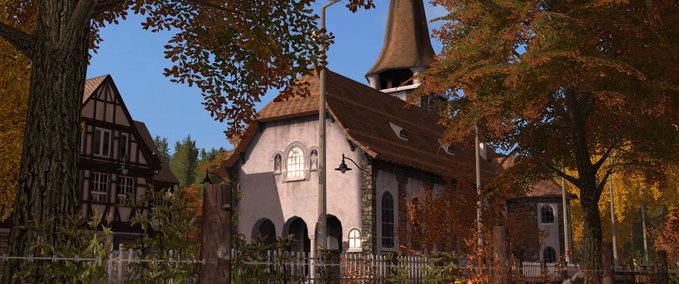 description
featured
Hermanns Eck, a small idyllical map with small fields, hills and valleys. 
You will find support at www.modding-welt.com
Credits
Mapper: metalger1
Hilfestellung durch:
Modding-Welt Team
Zetor6245
Ifko[nator]
Raptor5
Manuel
Crouwler
Objekte von:
El_Cid
fendtfan1
Blacksheep
changes
05 May 19:24

Version 2

Changelog v2

-Map um ein neues Tal erweitert
-AI Verkehr erweitert und AI Fußgänger hinzugefügt
-Zuwachs von 7 Feldern und 7 Wiesen (Ackerfläche neues Tal 4,5ha)
-Mehrere Produktionen hinzugekommen:
-Brauerei (Gerste/Weizen + Wasser = Bier)
-Molkerei (Milch -> HMilch)
-Sägewerk ( Holz + Kraftstoff = Holzpalette)
-KompostMaser (Biologischer Abfall (Gras,Mist, etc.. + Treibstoff = Kompost)
-Neue Verkaufsstellen:
-Gartencenter (Kompost)
-Hofer (Bier, HMilch, Holz)
-Neues großes Forstgebiet
-Kollis entlang des Flusses (als Rundballenfang)
-Güllebank als Kaufstation für Gülle
-Kleinere Fixes (was bei der V1.1 noch vergessen wurde..)

28 Jan 17:47

Version 1.1 Spielbarkeits Update

Changelog v1.1:

-Haupthof umgebaut/erweitert
-Regale am Haupthof hinzugefügt
-Einfrierende Schweine gefixed
-Saatgutverkauf bei Landhandel hinzugefügt
-Verkauf von losem Stroh gefixed
-Platz für Platzierbare Objekte erweitert
-Pallet Spawner der Schafe verschoben
-Eier auf einen Haufen gelegt
-Wopsters Schlauchsystem eingebaut
-Beleuchtung eingebaut
-Händler-Teleporte zurechtgerückt
-Beim Raiffeisen die Betonbarrieren etwas angepasst
-Den Kompost und Kalk Verkauf angepasst
-Kollision der Brücke bearbeitet
-Milch manuell verkaufbar
-[...]

18 Dec 13:44

Version 1 Seasonsmod

Do you think this mod should be featured?
Unterstütze den Entwickler!
Jetzt mit PayPal spenden
V 1.1 Spielbarkeits Update
}