Kröger Agroliner HKD 402
V 15.0 mod for Farming Simulator 15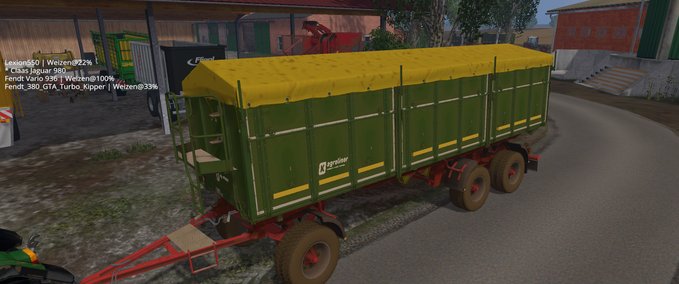 description
featured
I just got my HKD 402 for LS15 here for you.
Download of "rape maize barley wheat chaff grass_windrow potato sugarbeet seeds fertilizer manure silage forage oat rye lime wood chips, compost sunflower seeds2" is possible.
The tonnage is 26,000 tons.
He has two sets of wheels and you can change with Key_KP_8.
Cover feature is installed and funzt as the original from the game. Rocking goes to the back, right, left and front sight.
The "fillAutoAimTargetNode" index, you can move with the right mouse button forwards or backwards. This allows the (eg maize) chop the pipe from the chopper forward or behind to move.
He also funzt without problems with the "ToggleTipSide" and together.
The trailer is NOT washable, there will be as fast NOT.
One reason is that he looks very modest with the current texture and I am currently the desire and time does not have to texture it again. For the coming nor the insane "sophisticated" and "technically thought out" clerk in the forums some users a "build" really. This is exactly what is sometimes hard to digest.
Thanks go to the colleagues of Buure forum for the test drive and the tip of Use. Not to mention the rest of Underground modding.
It is forbidden to publish this work in the same or modified form, without the consent of the author (Lindemann) again.
When re-posting on other forums with original link requires no release.
It is forbidden to upload this mod again, even in the form of altered!
Please use the original download link!
Credits
Modell / Textur / Ingame: Lindemann
changes
08 Mar 08:36

Version 15.0

Do you think this mod should be featured?
}