Kröger Agroliner SRB35
V 1.0.0.4 mod for Farming Simulator 17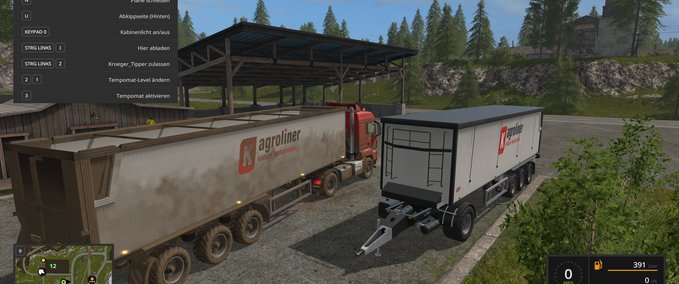 description
featured
Kröger Agroliner SRB 35
The semi-trailer from the LS13 was completely processed and brought to the LS17 stand.
Agricultural and road tires
Flag Script
Digital display
dirt
shine
Lights completely on LS17 stand
Conveyor Animated
Dumping Normal or via a grain pusher
Balanced weight
Kröger label purchasable
Rims color choice
Towbar for the dolly purchasable
self-steering
80,000 liters capacity
I wish you much fun with the Krampe alternative
your Ap0lLo
If you want to keep up to date on projects, then visit my Facebook page
https://www.facebook.com/RaveBurner/
Credits
Modell: Ap0lLo
Textur: Golim
Script: Ap0lLo
Idee / Konzept: Ap0lLo
Tester: Ap0lLo
Sonstige: 
changes
29 Apr 13:43

Version 1.0.0.4

Dynamic Hose Anschlüsse am Heck eingefügt (Kompatibel zur Dolly vom MAN ITR Pack)
Reifen Config erweitert, man kann nun zwischen Lenkachse oder ohne Lenkachse wählen.

15 Apr 12:10

Version 1.0.0.3 Sound Fixed

Abkippen wurde gefixxt, der Trailer hat immer zur linken Seite abgeladen, anstatt nach hinten und er Brach den Vorgang, zu früh ab.
Abkipp Sounds wurden nachgetragen, Hydraulik wie auch das Rauschen der Ladung beim abladen.
Dynamische Schläuche wurden erneuert

12 Apr 13:47

Version 1.0.0.2 Dynamic Hose

Fillvolumen wurde auf die Form des Trailers angepasst (zu Deutsch: die Ladung wird nun besser angezeigt im Trailer)
Die Abkipp Effekte und Animationen wurden richtig Positioniert, die Ladung wird nun Perfekt übers Förderband befördert

31 Mar 20:45

Version 1.0.0.1

Do you think this mod should be featured?
}