Lemken Solitair 12
V 1.1.0.0. FIX mod for Farming Simulator 15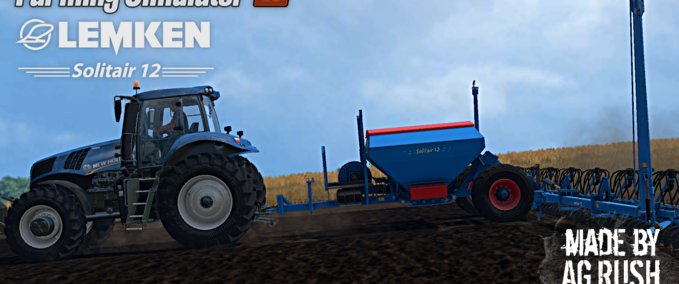 description
This mod has all basic FS 15 functions + so-called "wheel shader" and Cover.lua specialization script from FS 17 (which has more attributes than its older FS 15 version).
Store data:
- Price: €/$/£ 123.000
- Maintenance: €/$/£ 360 per day
- Needed power: 198.5 kW/270 hp
- Working width: 12 m
- Capacity: 5800 l
- Crops: wheat, barley, rape, grass + additional (if the Multifruit mod is in "mods" catalog; e.g. oat, triticale, lucerne)
Other infos:
- After drive in/out from the trigger with seeds cover opens/closes automatically.
- You can fill the seeder from big bags.
- After purchase cover is closed (in opposition to vehicles with basic script to cover).
- In opposition to quintessence of polish "modding", log is clean in singleplayer mode - you won't find any error.
WARNING: Mod not tested in multiplayer mode, any problems with this mod in mp please report in comments section (if it's possible).
ToDo-List (what to fix):
- Cover opens when the seeder is folded.
- You can fill the seeder when cover is closed.
- FillPlane is covered with texture of grain last selected before filling type of plant.
- Lack of dynamic pipes (I forgot to add them).
- Gloss and dirt on decals.
IMPORTANT:
- DON'T CHANGE THE LINK (REUPLOADING TO OTHER SERVERS) AND UNAUTHORIZED EDITING.
- DON'T IMPERSONATE THE AUTORS.
- DON'T ADD TO ANY MODPACKS.
- BY DOWNLOADING MODS FROM ORIGINAL LINKS YOU SUPPORT AUTHORS OF THEM AND YOU'RE SURE THERE WON'T BE ANY NASTY SURPRISES. DON'T LET EARN THIEVING GANG OF HYENAS! #respectformodders
- Have you any questions about this mod or suggestions what to fix/improve? Write in comments section (if it's possible).
- Have Fun and regards, agRush2k :)
Credits
Model/Texture/FS 17 programming: GIANTS Software
Cover.lua script (from FS 17): Stefan Geiger
FS 15: agRush2k
Help: Alan207 (thanks awfully :))
changes
13 Nov 21:40

Version 1.1.0.0. FIX

- Added dynamic pipes (which wasn't in previous version) and improved an appearance of decals (they don't have a strange "shadow" (or what is it called...)) (fixed visual issues)

13 Nov 17:59

Version 1.0.0.0
Empfehlungsrate
-/-
noch nicht genug Stimmen
Do you think this mod should be featured?
}