Map Bjornholm
V 1.4.0.0 mod for Farming Simulator 17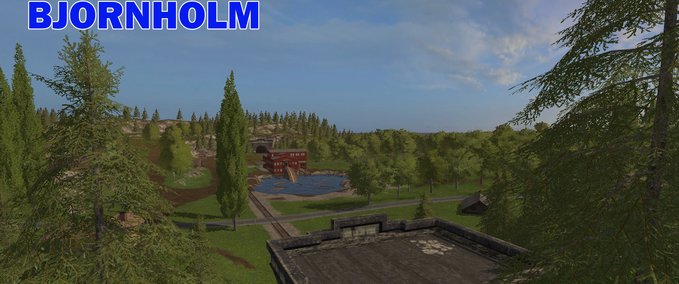 description
Bjornholm version for FS 17
I present Bjornholm map of Farming Simulator 17.
The map has been edited. Added pig farm.
Textures from FS15.
Also changed startup machines, those with Farming Simulator 15.
The map looks like the original map from the previous game. Ideal for those with Scandinavian climates.
Credits
Author: CryKillerPL
changes
13 Oct 21:35

Version 1.4.0.0

- fixed decorative board next to box number 17
- fixed slurry texture in pigs
- a new building for the vehicles next to the pens for pigs
- minor changes in cows

09 Oct 19:13

Version 1.3.0.6

- move the manure in the pig farm
- minor fixes

07 Oct 08:16

Version 1.3.0.5

- fixed a problem with the texture of the building on the farm
- decorative job boards have been added

04 Oct 19:31

Version 1.3.0.4

- changing the position of eggs
- new grain texture in the grain unloading points
- buildings in biogas converted to those with FS15
- machine in biogas plant SILOKING, converted to FLIEGL
- changed shelter on the farm
- added telephone booth on the farm

03 Oct 13:27

Version 1.3.0.3

- new flags next to the store
- added the fourth starter tractor
- tags fields shine
- added names in multiple languages
- added wood purchase tag on PDA
- little corrections
- minor changes on the map

28 Sep 23:53

Version 1.3.0.1

- added Chopped Straw
- minor bug fixed

28 Sep 06:18

Version 1.3.0.0
Files

Do you think this mod should be featured?
}