Mercedes Benz Sprinter VS30
V 1.0 mod for Farming Simulator 19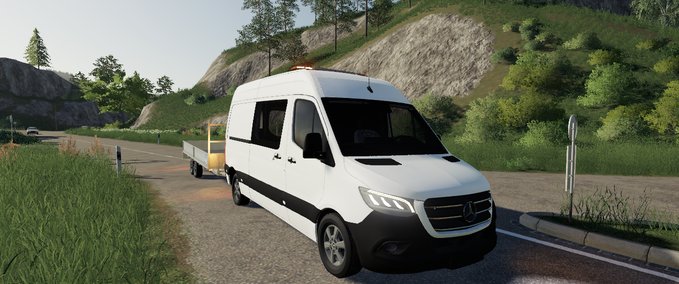 description
Good day everybody,
Today I present you a Mercedes Benz Sprinter of the newest generation for download.
What special features does he bring?
The rear doors can be opened
4 different warning bars are installed (standby Z3 in orange and blue as well as a DBS5000 or DBW5000 *)
color selection
Fire department design selectable
Martinshorn via the button (N) controllable.
Tension straps for securing the cargo
I hope you will have fun with the mod.
LEGAL:
IT IS FORBIDDEN TO MODIFY THIS MOD OR TO LOOSE IT AGAIN AGAIN!
Fire-Technology's Mercedes Benz Sprinter is licensed under a Creative Commons Attribution-Noncommercial-No Derivatives 4.0 International License .
Permissions beyond this license can be found at
www.fire-technology.de received.
Left:
www.facebook.com/firetechnology.de/
Credits
fire-technology.de
c0br4
OcciRS
changes
12 Jul 10:17

Version 1.0

-DBS/DBW3000 Verbaut
-Heckblitzer entfernt
-Hänch Nova KLED Hinten Verbaut
-Lichtkegel für Blitzer Verbaut
-Seitenmarkierungsleuchten verbaut
-Textur Fehler behoben (Lenkrad)
-Dichtungen Angepasst (Innenraum)
-Seitentüren haben Collision
-Seitentüren jetzt Via MausControl Steuerbar
-IndoorHud hinzugefügt
-Spanngurte Angepasst
-Shop Name angepasst

04 Jul 10:55

Version 0.9 Beta

Do you think this mod should be featured?
}