Mining & Construction Economy
V 1.2 mod for Farming Simulator 17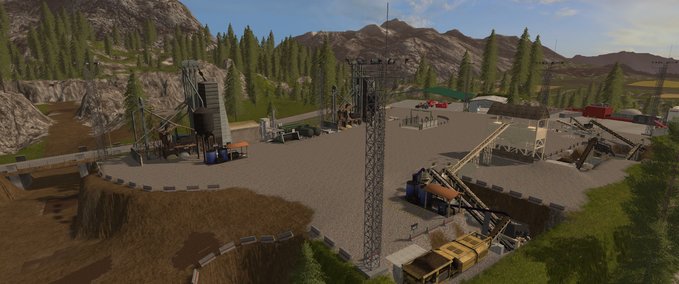 description
featured
If you are farming simulator purist then this map is not for you, because this map has many tasks to do instead of cultivating, harvesting, feeding animals etc.
This map is a modification of Goldcrest Valley.
What is new in this map:
This map has a open sky mine where you can extract stone, limestone, soil, coal and water.
You use the stone crusher for the production of gravel, sand and stonepowder. You use a limestone crusher for the production of cement. Use tout-venant facilities for production of tout-venant and use asphalt facilities for the production of asphalt.
With the soil you can extract gold at goldmaster, the gold appears in a box and you can sell at the bank next to the store machine.
With the gravel, sand, cement, and riversand2 (you need extract riversand) you can produce concrete at the concrete factory, and sell the concrete in the village construction area, also you can sell sand, gravel, tailings and boardwoods.
In the sawmill exist a new facilitie for production boardwood.
All animal facilities (cows, sheeps, chickens and pigs) are in main farm.
Exist a harbor here you can sell all products of the map. You can use the veihicles or you can use the new train system.
On v1.0 you can use a boat to transport Coal and Limestone from the main Mine to iron mine. You can donwload the the ferry here <- click
I release the ferry on modhoster but I don´t know why the admins don´t release the ferry.
Special thanks: 
kevink98 (mCompanyFactory Script author and admin LS-modcompany fórum).
RC-Devil (AditionalMapTypes script author and admin mods-community fórum).
Beans1709 (for let me try the map on your dediserver). 
This time I don´t release a modpack for this version of the map like I do for fs15 version. Some modders don´t like other modders change their mods, so you have wait until the modders release mods for mining (excavators, dumpers, trucks etc). The vehicles in game are compatible with the map, you can play and use all features with the default vehicles except TAR, for this you need use Kotte Universal Pack 1.0.0.6 LS17.
Other mods I recommend:
 Kotte Universal Pack 1.0.0.6 LS17
Version 1.1 Platinum
Plantig trees fixed 
Can selling iron at the harbor only using the train
More product information on production facility
This new version have the name Platinum, but you can play this version without Platinum version by Giants. 
In this months emerge some maps with my ideas (this is not a problem for me, this is a sign people like my ideas), all modders have my authorization to use my ideas into your maps. If you like my ideas and want create a map for mining, please contact me, together we can create a better map. With my ideas and yours skills, certainly we can create something. 
Credits
Model: Giants
Texture: Giants
Script: Giants / marhu / Blacksheep
Idea / Concept: Nonnus
Testing: Nonnus
Other: Giants
FTmodding
Kastor
Alex / fin050808
BlackSheep
Farmer_Andy
Marhu
LsModdingTP/josetp/hugotp/Romino's
team modding portugal LsPrO / hectic
Tropics
Kevink98
Nick98.1
SBorg
And me: Nonnus
changes
26 Aug 00:27

Version 1.2

Fix coal and riversand extraction site.

21 Jul 08:58

Version 1.1

- Plantig trees fixed
- Can selling iron at the harbor only using the train
- More product information on production facility

16 Feb 23:03

Version 1.0

Add new transportation system to carry Limestone and coal by boat from main mine to the iron mine.

13 Jan 07:02

Version 0.9 Platinum

- New storage silo at the iron mine (sand, gravel, tailings and iron).
- New loading point for trucks/trailers on storage silo at the principal mine.
- Silo capacity for cement increase to 350000 liters
- New sighs on the ground to indicate where you can sell iron and goods from winehouse.
- The materials heaps, view distance increase to 1000 meters.

05 Jan 22:50

Version 0.8 Platinum

- Wood cranes fix
- gold nugget at the train bridge fix
- new excavation point at the village
- all heaps full on start

29 Dec 15:42

Version 0.7 Platinum

- seasons mod ready
- Platinum ready (have sugarcane)
- change the 3ª railroad (now is more real, the climb to the mine is more soft).
- Add a new Mine to extract Iron, and a new facility to produce Steel, and can sell the Steel at the harbor.

25 Nov 15:01

Version 0.6

- Compatible with giants update 1.5.1.0
- Compatible with mutiplayer and dediserver (the problem only the host see the displays is fixed, and the invited gamers can fillup the train.
- Change to mCompanyScript.
- The filltype heaps now is dynamics, more real.
- New sawmill base on mCompanyscript.
Files
Do you think this mod should be featured?
}