V 1.1 mod for Farming Simulator 2013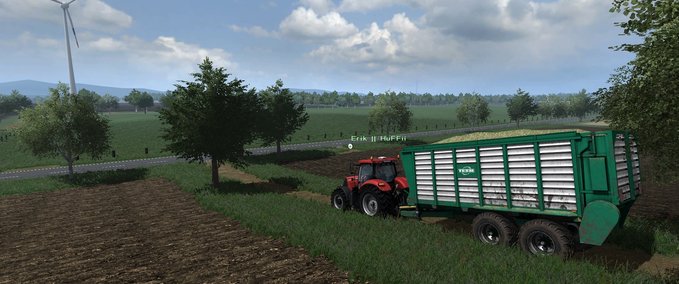 description
featured
Beschreibung
Die Karte ist eine komplett frei erfundene Landschaft die irgendwo in Deutschland liegt.
Die Felder sind überwiegend groß.


Steckbrief
Mapper: 6920power
I3d. größe: 6,23 mb
Feintuning: Deere6800 & HuFFii
ZIP. Größe: 150 MB
Baubeginn: Ende Dezember 2012


Features

Version 1.0
Anpflanzen von Weizen, Gerste, Raps, Mais, Gras, Zuckerrüben, Kartoffeln
Tierarten: Kühe, Hühner, Schafe
Verkehr, Fußgänger, Milchwagen
Biogasanlage
Felderkauf
Fahrzeuge können zurückgesetzt werden
Großer Landhandel
Schweinemast von marhu 

auf dem

 Hof
- Fütterung (Weizen, Gerste, Mais, Kartoffeln, Rüben, Gras, Silage, Heu, Stroh)
- Mist und Gülle Produktion
- Verkauf beim Landhandel von Schweinen mit folgendem Anhänger: KLICK MICH
Verkaufstrigger am Händler (20% mehr auf Maschinen)
Eier verkauf beim Edeka Markt im Dorf
Wolleverkauf 

bei der

 Spinnerei (gegenüber BGA)
MapHoseRefStation an allen Güllebehältern
etc ...

Version 1.1 (ausgetauscht um 12:20, ggf. muss die Map nochmal geladen werden!)
Beide Silos an der BGA sind nun wieder funktionstüchtig
Füllstandsanzeige des Güllepotts ist nun 

nicht mehr

 an dem Milch Roboter


Benötigte Mods
- MapHoseRefStation: MapHoseRefStation - Farming Simulator UK - Quality mods for Farming Simulator 2009, 2011 and 2013
- MapDoor Trigger: mapDoorTrigger - VertexDezign.net
- Windkraftanlagen-Sounds: File-Upload.net - windmill.wav


Die Version ohne Verfaulen:
http://ul.to/6mhfcgg2
Rechte
Diese Map darf, ohne vorherige Genehmigung von uns, auf keinen anderen Seiten zum Download gestellt werden. 
Die Map darf ohne Zustimmung des Ur-Modders nicht verändert oder neu hochgeladen werden. (Startseite - ls-galaxy.de)
Die Map darf nur für den Landwirtschafts Simulator 2013 genutzt werden! Nicht für andere Spiele.

Kontakt
Webseite: www.ls-galaxy.de 
Facebook: http://www.facebook.com/pages/LS-Galaxy


Die Map soll als kleines Nikolausgeschenk dienen - wir wünschen euch viel Spaß mit der Map.
Credits
Map by 6920power

Texturen:
Vanilleeis, GIANTS

Div. Objekte:
Burn_out, Vertexdezign, B34STx, bahoo222, Fatian, Manuel, xXMalleXx, madabub, ehem. Eifok,
mailman, Stonebracker, Deere6800, GIANTS

Scripte:
Fruktor, John Deere 6930, marhu, GIANTS

PDA Karte:
Sepple

Genauere Credits in der Credits.txt (entahlten in der Map.zip)
changes
20 Apr 14:17

Version 1.1

Kalk- und Düngerlager hinzugefügt ------ Gülle-, Kalk-, Mistmod eingebaut ------ Klee und Luzerne eingebaut ------ Hof umgebaut ------ neue Texturen ------ BGA umgebaut ------ WKA am Hof hinzugefügt

06 Dec 17:30

Version 1.1
Files
| | |
| --- | --- |
| checksum: | cc8ef9d1f431009d601f429409efd2cd |
| Version: | 1.1 |
| multiplayer ready? | yes |
| Author: | 6920power |
| price in shop: | LS |
| name in shop: | Neufeld V1.1 |
| description in shop: | Eine Landschaft irgendwo in Deutschland |

Do you think this mod should be featured?
}