Oakfield Sukaz Edit
V 1.3.0.0 mod for Farming Simulator 19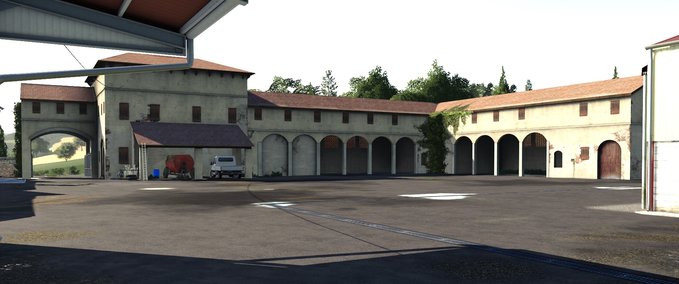 description
Welcome to Oakfield Farm special Edit by Sukaz Farmer renamed "Amarcord".
Based on "Oakfield Farm" v1.1.0.0 by Oxygendavid.
Special thanks to The Alien Paul & Farmer Agency for permissions and for to have certificate MaizePlus and Horse Extension integration.
Other big special thanks to Oxygendavid for his permissions to edit and to publish this version.
The map is ambiented in Romagna and Tuscan Land, two adjoining region in Italy.
The map is a mixed of flat and hilly terrain with tipicals rural building.
For to have a pleasant experience with this map we raccomanded to use the following mods:
-MaizePlus Horse Extension (already into the map)
-Season (into the map there is a GEO that is similar to tipical weather of this zone)
-Precision Farming DLC (map is already ready)
!!ATTENTION!!
For people that not use MaizePlus, when cut the grass, the first product obtained is fresh o wet grass, for have normal grass you must tedding one time.
For obtain hay windrow, you must tedding other two time, between one time and other you must detach and retach the tedder.
If you cut the grass with a mower conditioner, you obtain immediatly grass windrow (you skip first tedding).
For more details read MaizePlus instruction.
I Hope you all like this map.
Facebook Sukaz Map Designer
Credits
Model: Oxygendavid, Sukaz Farmer, MA7, My7farmer
Texture: Oxygendavid, Sukaz Farmer, MA7, My7farmer
Script: Oxygendavid, MarcoLs, The Alien Paul, Farmer Agency, Wopster
Idea / Concept: Oxygendavid & Sukaz Farmer.
Testing: MarcoLs, Sukaz Farmer, Francy Trevisan, Giacomo, Luigi Calasso, Appaloosa.
Other: Giants, Oxygendavid, The Alien Paul, Farmer Agency, VertexDezign, bm-modding, Wopster, MA7, My7farmer and all other people I forgot to mention.
changes
18 Feb 10:05

Version 1.3.0.0

Empfehlungsrate
-/-
noch nicht genug Stimmen
Do you think this mod should be featured?
Unterstütze den Entwickler!
Jetzt mit PayPal spenden
}