Oldbrook
V 2.0 mod for Farming Simulator 2013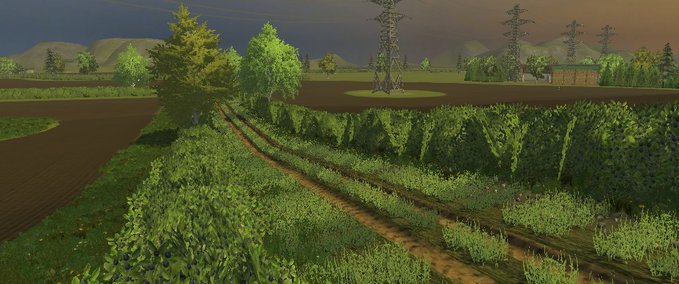 description
The Oldbrook Map V2 has been designed by OEB Modding. 

It is a large estate farm comprising of acres of prime farm land in a landscape of rolling hills and tight, twisting roads, right on the edge of the coast, with 20 buyable fields and 4 grass paddocks for you to use. 

All off the fields are already ploughed and fertilized except 2 fields that are half grown. There is plenty of machinery to get you started, and there are plenty of sale points across the map, but warned the hedges all have collisions. 

The Water Mod and Yield Mod's, and the withering is also off. 

The map has the normal crops of Wheat, Barley, Maize, Rape, Potatoes and Sugar Beet. Fields 17 & 7 have two sections to the field so when you purchase either fields you will also own the smaller sections. 

There are three farm yards. 
The main Oldbrook Farm yard is the home of the arable with the large machine hall which houses your four grain silos. 
The Dairy Farm is next door to the Arable farm with a Sheep farm just across the road for this with a good setup for the animal food management. 
The large Pig Farm to the south on top of the hill, with some stunning views, from either the castle ruins or from the base of the lighthouse. 

There is also a large BGA plant which helps meet the energy demands of the villages and surrounding area, and we have placed markers around the map for loactions of where we thought would be the best places for some placeables, (see attached pictures). 

Your milk will be collected by the local Dairy, twice a day. 

For an extra challenge try using Dural's MR mod, we have tested this in SP and MP and makes this a better challenge, but be warned The Cilmb and The Fall will test you. 
http://fs-uk.com/mods/view/32321 

This map is not to be edited without my permission and is not to be released or uploaded to any other website 

NB - This map will only work with patch 2 

Place the zip file in your mod folder. 

Water and pig mod trailers are available from:. 
http://www.modhoster.de/mods/joskin-betimax-rds-7500--2 
http://www.modhoster.de/mods/grosser-wassertrailer 

Placeable Mods: 

http://www.farming-simulator.com/mod.php?lang=en&mod_id=125 
http://fs-uk.com/mods/view/31463
Credits
Credits
Map Authors - OEB Modding (Enzosnext/Blobbyfarmer)
Giants, FS-UK, fs-uk Knowledge base, fs-uk forum & staff including helpful tips and advice
FarmerYip's Starter Map
seederman for fixing the paintable trees and help customize the map (V1)
Gate Gaurdian entrance by Sandgroper.
Paintable tress - Bullgore
Marhu - watermod -pig mod - script
Nick98.1 - signs
Water Gas House by Fendtfan1
Opening Gates ---- NI Modding
Lighthouse by Lecra
Roads by Javier007
Walls by Model, Texture and ingame: metalger1
Road Barriers ---- LS-Landtechnik Team
Wooden Wool Racking by Scorpion210
Wooden and Aluminum Signs by Scorpoin210
Central BGA V2 by getsome2030
Rolltor by GE mapping
Gast Hof by Msi-andy2
Machine Hall with Silo (Oldbrook Farm) by Kyosho
Silo's V1 (Pig Farm) by honclik
Mud Tracks by fendtxylon524
Feed Storage v1.2 (Pig Farm) by frisco0177
Futterlager v1.2 (Sheep Farm) by Ganelcer

PDA & other fixes by Skw247

Mods Credits :
Kärcher HDS 690 by SFM Modding
Placeable Mixing Station by steven1985

If i have forgotten any people please get in touch to be listed in credits.


Special Thanks to:

OEB Farming Ltd = Blobbyfarmer, Ozzie88, Grantsteve, Skw247, cfarrar1, Scorpion210, VeggieFarmer, nonnus, Cujo the Farmer and the rest of the team for allowing me to test with them all and for there help/suggestions in making this map what it is today!!!!
Files
| | |
| --- | --- |
| checksum: | 52cda199db071ddb5c442e8443be1fd4 |
| Version: | 2.0 |
| multiplayer ready? | no |
| Author: | OEB Modding |
| price in shop: | LS |
| name in shop: | OldbrookMap |
| description in shop: | OldbrookMap by OEB Modding. |
Empfehlungsrate
-/-
noch nicht genug Stimmen
Do you think this mod should be featured?
}