Porta Westfalica
V 5.0 mod for Farming Simulator 2013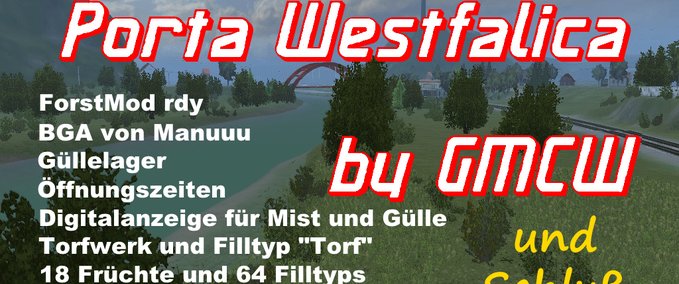 description
featured
Porta Westfalica Map: Willkommen an der Porta Westfalica. Wer LS in einer schönen Landschaft mit vielen Details mag, der ist hier richtig. Hügel, Berge, ein Fluss, ein Kanal, Wiesen und Felder mit Dörfern und Weilern dazwischen bilden den Rahmen.
Ausstattung:
Multifrucht; Bauzeit 1 J (gefühlte 1000 Std.); realistische Landschaftsgestaltung mit vielen Details; Brauerei u. Bäckerei mit Funktion; Gülle-Mist-Kalk-Mod; Schweine- u. Rindermast; Kühe, Schafe, Hühner; Water-Mod; Gründünger-Mod; Futtermischstationen; Wollpalettensammler; Ballenlager mit Kran u.v.m.
Ich habe mich entschlossen, die Map jetzt zum Download zu stellen, weil man ja eh nie wirklich fertig wird. An einigen Stellen ist noch weitere Deko geplant. Alle Funktionen sind vollständig und spielfertig.
Bilder sagen mehr als 1000 Worte (die eh keiner liest), desahlb ist ein Datei mit Bildern zu Stationen beigefügt. Erst die runtergeladenen ZIP entpacken. Danach die Map.Zip in den Modordner und die Bilder nach Bedarf anschauen.
Geschichte:
 Nach einem kurzen aber erfolgreichen Managerleben kannst Du Dir Deinen Jugendtraum verwirklichen und einen Hof am Fuße des Wiehengebirges erwerben und Landwirt spielen.
Kurzbeschreibung:
Landschaft rund um die Porta Westfalica mit der Weser, dem Wiehen- und Wesergebirge bis zum Mittellandkanal und dem Wasserstraßenkreuz. 2 Weserbrücken und eine Behelfsbrücke über den Fluss sowie 5 Kanalbrücken. Die Landschaft ist nicht 1:1 übernommen, aber doch grob nachgebildet.
86 Felder mit insgesamt 670,71 HA und einem Gesamtkaufpreis von 26.828.400,00 EUR. 5 Felder sind im Starteigentum. 81 Felder können gekauft werden. Alle Felder sind vorgedüngt.
Es gibt einen Haupthof, einen Schweinehof und einen Rinderhof mit den entsprechenden Mastanlagen. Alles was für die Versorgung der Tiere nötig ist, kann direkt an diesen Höfen entnommen werden. Man kann dort auch jeweils alles abladen, es landet dann am Haupthof in den Silos und Lagern.
Ein Feld ist als Hopfengarten ausgestaltet, wo der Hopfen (soweit möglich) real aussieht und in die Höhe wächst (6.5 Meter).
Früchte:
Weizen, Gerste, Hafer, Roggen, Dinkel, Grünweizen, Mais, Raps, Sonnenblumen, Zuckerrüben, Kartoffeln, Karotten, Zwiebeln, Hopfen, Klee, Luzerne, Energieweide und 5 Strohsorten.
Am Hafen und bei der EiMO AG ist eine Strohverkaufsstelle, die extrem hohe Preise zahlt. Dies ist für die Ungeduldigen gedacht, die schnell zu Geld kommen wollen. Muss man nicht nutzen, wenn man nicht will.
Man kann den Hopfen am Gartencenter kaufen, statt ihn anzubauen, um gleich Bier produzieren zu können. Man kann dort aber auch Hopfen verkaufen, wenn man kein Bier brauen möchte oder die Brauerei ausgelastet ist.
Sonstige Verkaufsprodukte:
Bier, Brot, Schweine, Rinder, Eier, Sand, Gülle, Mist Weizen- u. Gerstenstroh; Roggen-, Dinkel- u. Haferstroh Ballenverkauf
21 Verkaufsstellen über die Map verteilt und Strohkraftwerk (nimmt auch Energieweide an).
Die Milch wird abgeholt. Schweine- und Rinderställe müssen ausgemistet werden (Radlader).
Fußgänger, Auto-, Zug- und Schiffsverkehr.
Die Map ist trotz der Größe auch für Single-Player gut zu spielen. Es sind auf der ganzen Map Versorgungspunkte (VP) und Versorgungsscheunen (VS) verteilt, welche die langen Wege verkürzen. Dort können die Früchte abgeladen werden, die dann in den Hofsilos landen (Stroh, Gras und alle Kornsorten; Erdfrüchte können nur am Hof, dem Schweinehof und Rinderhof abgeladen werden). Dort kann man auch tanken, Dünger und Mist laden und weiter verteilen.
Fehler:
Ein Fehler ist bekannt: nach dem ersten Waschen bleiben die Bürsten der Waschanlage etwas schräg stehen, was beim weiteren Waschen nicht behindert. Ich habe vieles probiert, konnte den Fehler aber nicht finden. Wenn einer eine Idee hat, bitte ich um Nachricht per PN.
Performance:
Ich habe viel Mühe investiert, um trotz der vielen Details eine gute Performance zu erhalten. Die Map ist auf 5 verschiedenen Rechnern lange gelaufen und es gab keine Einschränkungen. Wenn also jemand Schwierigkeiten hat, liegt es sicher nicht an der Map, sondern an dem eigenen Rechner, insbesondere dem Modordner samt Inhalt.
Ich hatte alle Felder bepflanzt und es waren rund 50 Fahrzeuge (Trecker, Drescher etc.) auf dem Map unterwegs und liefen teilweise im Helfermodus, ohne dass es auch nur die geringste Einschränkung gab. Also nicht meckern, sondern den eigenen Ordner aufräumen und schadhafte Mods rausschmeißen.
Die meisten Fehler rühren aus schadhaften Mods (Fahrzeugen)! Dies hat sich bei den vielen Tests eindeutig ergeben und kann von den Testern bestätigt werden.
An dieser Stelle möchte ich mich bei den Testern Herakla, NordOstseebauer und jogibeer, die mir mit Anregungen geholfen haben, bedanken.
Viel Spaß beim Spiel wünscht Euch
GMCW
Credits
Bei der Bauzeit von mehr als einem Jahr, kann ich mich nicht mehr an alle Modder erinnern, deren Objekte ich verbaut habe. Ich danke allen, die Objekte gebaut haben, ohne die die Map nicht möglich gewesen wäre. Alle, die ich vergessen habe und die Erwähnung finden möchten, bitte ich um Nachricht. Diese werden dann ergänzt. Es steckt kein böser Wille dahinter, es waren schlicht zu viele.

Bauernhaus mit Scheune = Lucullus
Zaun = Fendtfan1
Gr. Bauernhaus = Lucullus
Hotel = BobMaster 66
Schwäbisches Bauernhaus =KundS-Modding
BayWaHändler = KundSmodding
Gartenzaun = Trixi
Traktorhalle = Richi*3
Mauern = Diops33
Wohnhaus = Richi*3
Maschendrahtzaun = GE-Mapping
Gehwegeset = Frank Wienberg
Schilderpack = Nick 98.1
Fachwerkscheune = Rauschebart
Schilderset = Hirntot 2.0
Straßenbaukasten = atze1978
Schweinezucht = Marhu
Gate mit Mauern = Cosmin 123
MapSiloBand = Marhu
Straßenset = Goodgod
WasserMod = Marhu
Industrieanlage = LWS Terminator
Metzgerei = SLJ Agrar
Steinplatten Set = The Agraama
Pferdehof = Aerocool1
Leitplankenset = LS Landtechnik
Brennerei = Landei
Binnenschiff = Himmi
Edeka = Mark 44
Leitpfahl = Basti66
Sky = Kieler 81
Rolltor = GE-Mapping (?)
Strommasten = MartinBigM 500
Landhandel = Papa
Stromset = kann ich nicht mehr finden
Weidentore = Weltbauer
Weidenzaun = Weltbauer
Mistbeamer = Askari
Futterlager = Frisco0177
Multifrucht = Bummi Brumm
Ampeln = mod-portal Team
Ampelscript = Bluebaby 210
Brücken = Mach1-Andy
Waschanlage = Buchhauer
Rindermast = Marhu
Futtermischstation = Marhu
Wollpalettensammler = Marhu
Brauerei und Bäckerei = GE Mapping
BGA = Manuuuu
changes
31 Oct 11:58

Version 5.0

Weitere BGA von Manuuuu eingebaut
Öffnungszeiten für diverse Objekte eingebaut
Torffabrik eingebaut
Filltype Torf eingebaut
Weitere Frucht Triticale eingebaut
Weitere Strohsorte Triticale-Stroh eingebaut
Verkaufsstellen für die neuen Früchte erweitert
Güllelager eingebaut
Digitalanzeige für alle Früchte
Digitalanzeige für Gülle- und Mistlager erweitert
Entnahmen für Gülle und Mist auf der gesamten Map
Gülle- und Mistbeamer am Hof, den BGAs, dem Schweine-
und Rinderhof eingebaut (transportiert die Gülle und den
Mist in die Gülle- und Mistlager
Strohlager für Triticale-Stroh eingefügt
Deko erweitert
Ablade an der Mühle 1 verändert
Hopfengarten abgespeckt
Stadion abgespeckt
Noch einiges mehr


29 Aug 18:02

Version 3.0

Digitale Füllstandsanzeige eingebaut
Futtermischstationen durch Futtermischhalle ersetzt
Chopped Straw eingebaut (ZZZ_ChoppedStraw.ZIP wird benötigt)
Kollisionen entfernt

25 Jul 17:41

Version 2.0 Forst Mod Edition

Erntbare Bäume eingefügt
Terrain für das Sägewerk
Terrain für Hackschnitzelkraftwerk
Terrain für das Hackschnitzellager
Texturfehler gefixt
Maschinenhändler geändert (mehr Platz)
Rücksetzpunkt am Hof verschoben
Zusätzliche Deko

22 Jul 18:55

Version 1.0 Multifrucht
images

by GMCW
ago about 8 years


by GMCW
ago over 8 years


by GMCW
ago over 8 years


by GMCW
ago over 8 years


by GMCW
ago over 8 years


by GMCW
ago over 8 years


by GMCW
ago over 8 years


by GMCW
ago over 8 years


by GMCW
ago over 8 years


by GMCW
ago over 8 years


by GMCW
ago over 8 years


by GMCW
ago over 8 years


by GMCW
ago over 8 years


by GMCW
ago over 8 years


by GMCW
ago over 8 years


by GMCW
ago over 8 years


by GMCW
ago over 8 years


by GMCW
ago over 8 years


by GMCW
ago over 8 years


by GMCW
ago over 8 years


by GMCW
ago over 8 years


by GMCW
ago over 8 years


by GMCW
ago over 8 years


by GMCW
ago over 8 years


by GMCW
ago over 8 years


by GMCW
ago over 8 years


by GMCW
ago over 8 years


by GMCW
ago over 8 years


by GMCW
ago over 8 years


by GMCW
ago over 8 years

Files
checksum:
20b3d63f4bc2271a15a105eb46763f50
Version:
5.0
multiplayer ready?
yes
Author:
Gregor Mc Wolf
price in shop:
53000 LS
name in shop:
Treibhaus (Tomaten)
description in shop:
Das Treibhaus Tomaten als Mod hat mehr
Füllvolumen beim Mist und Wasserbehälter.

Das ermöglicht, dass die Gewächshäuser lange mit
Wasser und Mist versorgt sind.

Gute Versorgung mit Wasser und Mist bringt
auch mehr Ertrag.

Do you think this mod should be featured?
}