Süd_Thüringen
V 1.0 mod for Farming Simulator 17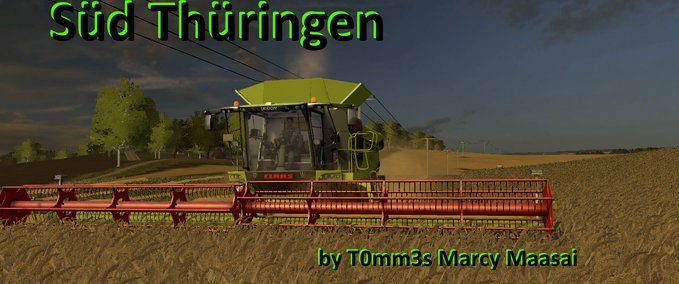 description
featured
Hello dear people,
We the Game Community South-East present you our version of the South Thuringia Map. We have come up with a lot to make the map more attrackt to such. As dairy, bakery, feed mixing, Compostmaster, Fostbereich and many other production sectors.
In the main courtyard we have the productions such as fertilizer, liquid fertilizer, seed productions. Furthermore, you will find all storage facilities such as warehouses for wheat, barley, oilseed rape, oats, fertilizer, lime, seeds, etc. Furthermore, there is still enough space for the fleet. As scripts are on the map:
- Manure, manure, lime, Compost Mod
- Shopped Straw
- Seasons ready
- Screaming animals / Grazing animal
CCM / Corn Cab Mix
The animal area we have pulled together, with plenty of storage for your equipment. Furthermore we have a free space for Placeable Objects.
(eg ball bearing wool storage)
All productions such as
- Bakery with intermediate production
- Mill with intermediate production
- Dairy with intermediate production
- Biodiesel Raffeerie
- Compostmaster
- feed mixing place
- Pallet plant
- Sawmill
- Lime works
What do you need for this:
https://ls-portal.eu/de/kotte-universal-pack-v1-2/
We wish you a lot of fun with the South Thuringia Map.
Credits

Textur: T0mm3s/Marcy
Script: T0mm3s
Idee / Konzept: T0mm3s/Marcy/Maasai
Tester: Die Verrückten Ossis



Do you think this mod should be featured?
}