Thornton
V 1.0 Gold mod for Farming Simulator 15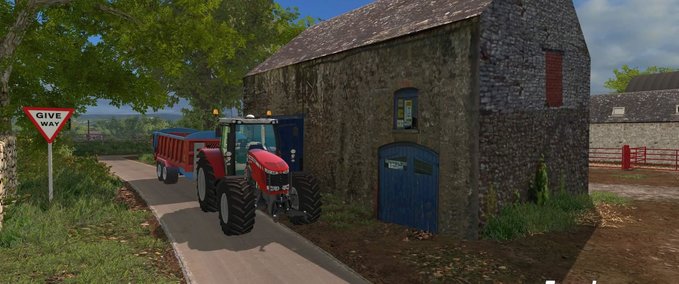 description
Welcome to Thornton Farm .... this map is based on the location of Gloucestershire. It is part fictional part real. There are 39 fields of 5 Which are owned. Thanks to BulletBill83, Blobbyfarmer and myself This map has a complete overhaul texture .... This includes foliage, sky, ground grass, etc.

This map contains pigs / beef mod, forestry, and 3 additional multi fruits Which include rye, sunflower, oats and it is soil mod ready.This map is very highly detailed and will need a medium / high spec computer to run it. This map includes many models made by myself.

Thank you for trying Thornton Farm, I appreciate the support you guy's havebeen giving me through my mapping experience, and a big thank you to mapper paradise.Don't forget to download the Dirt and terrain mod Control from fsuk if you want to see the full mud effects. happy farming!

Map info

1. new Soil, grass and wheat textures.

2. 39 fields.

3. animated objects. trains, planes, birds.

4. Lots of custum sounds.

5. Multi fruit (oats) oats, rye, sunflower.

7. Forestry with 1 grain sellpoint.

8. Lots of Hd buildings created by me.

9. pig and beef fattening

10. soil mod ready

11 complete overhaul texture.

REQUIRED MODS to Work Correctly


Terrain and Dirt Control (v1.0) http://fs-uk.com/mods/view/37578

AnimationMapTrigger http://fs-uk.com/mods/view/35932/animationmaptrigger

ChoppedStrawMod http://www.modhoster.com/mods/choppedstraw--2

Marshall pack http://fs-uk.com/mods/view/35601

VGA PDA: http://fs-uk.com/mods/view/35811/vg-pda

VGA PDA pig: http://fs-uk.com/mods/view/35834/vg-pda-schweinemast

OEB Livestock Trailer

Water / Milk Trailer: http://www.modhoster.com/mods/zunhammer-wasser-u-milchtank

StopMilkSale: http://www.modhoster.com/mods/stop-milk-sale-v-1-2




OPTIMAL MODS

• http://fs-uk.com/mods/view/36108/soilmod-soil-management-growth-control-v2-0-x
(If you dont want to use soilmod, all you have to do is remove the soilmod fromyour "mods" folder)


• http://www.modhoster.com/mods/remove-daytime-haze
(I would recommend this mod to remove the blue haze in the distance ... it makes maps so much better but that's my own personal preference!)

• Multifruit module http://fs-uk.com/mods/view/35781/multi-fruit-
Both files: ZZZ_multiFruit.zip and ZZZ_multiFruitModule_Standard.zip are REQUIRED for the map's additional fruits to work.
Credits
Credits

Map makers

Oxygendavid

KimG (Big thank you to Kimg for doing all the multi fruit on this map.)

Soil textures melfroy

Testers

Jdb14
Landykid
profarmer40


Just want to say a big thanks to the guys at Mappers Paradise and all the people that have helped me get this map to its present state.



Map Objects

credits
bulletbill83
Somethingonmyshoe2
blobbyfarmer
DzikiDzik
robbie
Jendrek
K&K Modding Team
Luculus
Benedict
TM
Chtiseb
Sotillo Modding Industries
Larsen & Larsen Modding
Raptor5
Benedict
Alex2009
oxygendavid
Mfg Bernascht
von kyokoyama777
CHRIS1988
Kolbenfresser
Luculus
marhu
Decker_MMIV
THomas
SirJoki80
Dorset
WBF
chris7710
petorious
NI Modding
LJW modding
fatian
javieroo7
juanathan
lsm modding
chriss 1988
kolbenfresser
zefir
mafia73
csmc
jauchebpaule
kazura
creative modding
imschonenwildcott
coufy
vanillaice87
Larsen modding
webalizer
sandgroper
vertex designs
lancyboi
Xentro

If there are objects on the map that are not credited please drop me a PM as this isn't deliberate and would always credit peoples work.
changes
31 May 19:33

Version 1.0 Gold
Files
| | |
| --- | --- |
| checksum: | 7c8981b6d996012531031a29392c22da |
| Version: | 1.0 Gold |
| multiplayer ready? | yes |
| Author: | Real name: david hollister - FSUK name: oxygendavid |
| price in shop: | LS |
| name in shop: | Thornton Farm |
| description in shop: | Eine realistische Karte im Herzen von England gesetzt, Knuston Hohe Farm ist ein echter Bauernhof in Northamptonshire, die normalen Ackerbau Operationent sowie Vertrags sie selbst heraus. |

Do you think this mod should be featured?
}