Volksvalley
V 2.5 Seasons ready mod for Farming Simulator 17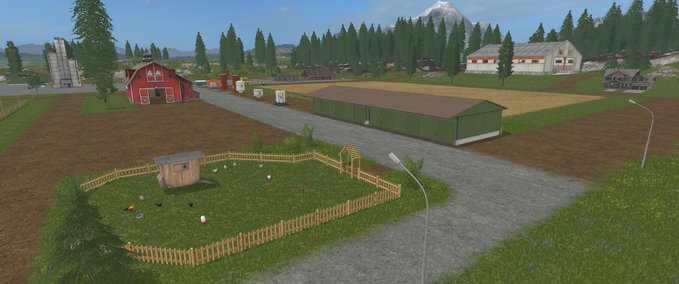 description
featured
People Valley V1.0
Hereby I want to introduce an edited version I of Goldcrest Valley Map.
Next I changed to the map:
The main courtyard was built in a different place from scratch.
All animals are on the farm.
The farm offers a lot of space for more, placeable objects.
Water, seed and fertilizer can be purchased on the farm.
The car dealer has moved into the vicinity of the farm.
Various halls and shelters set up in the yard.
There is a field at the farm.
All gold nuggets were redistributed.
Minor changes in the tiling.
Wheat, barley, canola and Landscape textures of Eribus installed.
Trigger increased for the sale of wood at the sawmill.
All Tour Icons removed.
The reset point down to the yard.
Some minor adjustments.
PDA image renewed.
I wish you now enjoy.
Criticism is encouraged, but please always remain objective and fair!
biface
Credits
Original Map: Giants
Frucht und Landscape Texturen: Eribus
Unterstand: 1LS12
choppedStraw: webalizer
Lichtpck: Niggels - VertexDezign
Dorset: Weidetor
Farmer Andy: SeedMaster, CompostMaster
Nils23: Saatgut Lager, Digitale Anzeigen
kevink98: Sägewerk, Milchtrigger, Gülle/Gärrestelager
slowtide63: Sojamilch Produktion, Brettertrigger
BlackSheep: AdditionalMapTypes Add Price Table
Joerg_B: Große Halle
Blacky_BPG: GasStationExtended, Buy on Silo Trigger, Waage mit Statistikfunktion, dynamischer Himmel
Marhu: CombineStrawFix
GTX Mods: Multi Storage Shed
auwgl: Bio Diesel Produktion
TyphoOn: BGA für Kleinbetriebe
kevink98/Marhu: Fabrikscript
nico1410: CooperativeBiocer
steve1912: Schild
Xentro: FillablePalletFix
GtX (LS-MODCOMPANY): Water Trough Addon
Realismus Modding: Grazing Animals, Seasons Mod
Ifkonator: GMK Mod
Redi90: Waschplatz
Eisbearg: Eiersammler
changes
07 Nov 16:56

Version 2.5 Seasons ready

Lager für Gülle und Gärreste eingefügt. (Je 100.000 Liter, in der Halle beim Kompostmaster.)
Wasser Addon bei den Schweinen gefixt.
Fahnen beim Fahrzeughändler eingefügt.
Snowmask überarbeitet.

23 Oct 15:05

Version 2.4.2 Seasons ready

Dynamischen Himmel eingefügt.
Eiersammler bei den Hühner eingefügt.
Einen Waschplatz auf dem Hof eingefügt.
Kleinere Änderungen an der Snowmask gemacht.
Beim kleinen Sägewerk Display gefixt und die Kapazitäten etwas angepasst. Außerdem noch einen kleinen, unsichtbaren Gegenstand entfernt. Brennstoff Verbrauch reduziert.
Abladetrigger beim Gartencenter nochmal geändert.
Bei den grasenden Tieren die Maske überarbeitet.
Auslass Rohr beim Hoflager geändert. Das Display beim Hoflager etwas nach oben geschoben.
Der Map liegen 2 platzierbare Siloerweiterungen bei, welche das Fassungsvermögen des großen Silo und des Hoflager erweitern. Es werden alle in den Silos eingetragenen Früchte unterstützt.

12 Oct 23:40

Version 2.4.1 Seasons

Fehler beim Gülle Mist Kalk Mod gefixt. Es war keine Kalk Textur vorhanden.

12 Oct 22:26

Version 2.4 Seasons

Map ist jetzt Seasons ready.
Gülle-Mis- Kalk Mod eingefügt.
Ablade Trigger beim Gartencenter gefixt.
Kleinere Performance Verbesserung.

10 Oct 16:46

Version 2.3.3

Water Trough Addon eingefügt.
Grazin Animals Addon eingefügt. Der Mod darf sich nicht im Modordner befinden, da dieser bereits komplett in der Map verbaut ist!

04 Oct 20:12

Version 2.3.2

Digitale Anzeige am Hofsilo überarbeitet, es werden jetzt auch die Füllstände der Siloerweiterungen mitgerechnet.

Einige Scripte aktualisiert.

Trigger bei der Hoftankstelle etwas verschoben.

Waage mit Statistikfunktion bei der großen BGA eingefügt. Info

Diverse kleinere anpassungen.

Do you think this mod should be featured?
Unterstütze den Entwickler!
Jetzt mit PayPal spenden
}