Stappenbach
V 2.1 mod for Farming Simulator 15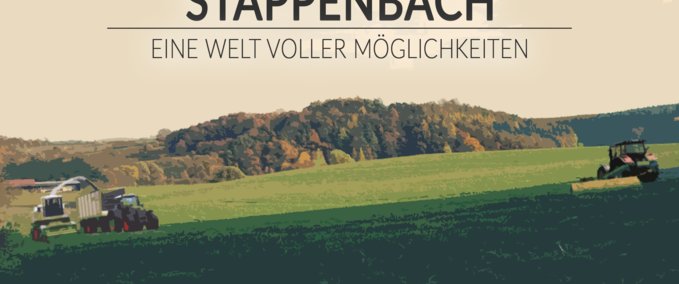 description
featured
You are searching a map which will cast a spell over you? Then you are right.

With "Stappenbach" you will get an absolutely fascinating game experience!
Realistic, extensively, varied and a 1:1 rebuild of a realistic village in Oberfranken in Germany.
Enjoy the magnificent landscrape in low mountain range, which the river "Ebrach" is crossing and rejoice in the numerous features given by this map.

Regardless of what you want to to, whether you want to invest in the great economy around the grassland, whether you want to concentrate on acriculture on the undulating landscape with small to middle sized fields, or flex one's muscles in the big and realastic forests. The unique, complex modeled and detailed builded landscape in "Stappenbach" will elate you!
At the beginning a small farm which is getting a bit long in the tooth is available for you. Both old and new farms are original rebuilded by the typical style of Upper Franconia. Work hard, invest clever and operate economically to get bigger farms at the outskirds of town, to get one of more available biogas plants or to acquire the big sawmill.

Today, the map has been built over 17 months. In the following you get in a short way all facts:
Content:
1.       Dates and facts
2.       Version
3.       Required mods
4.       Recommended mods
5.       FAQ
6.       Planned changes in next versions
7.       Support
8.       Credits
1.) Dates and facts
- 1:1 rebuild
- original elevation model
- 2 villages
- Arround 150 fields
- Arround 80 grasslands
- Detailed landscape
- And much more!
2.) Version
You have the option to choose between 2 different verisons of the map.
One version was created with the GMK Mod, the other version is with the Soil Mod.
Apart from that there are no differences between both versions.
3.) Required mods
ZZZ_multiFruitModule_Standard.zip
4.) Recommended mods
Fliegl_Animal_Transport_Pack.zip
ZZZ_multiFruitModule_compost.zip
5.) FAQ
If you have any questions about the map, or you have found a bug, you have to go to our website (www.agrarteam-franken.de) and look into the forum section. There you can find support!



6.) Planed changes in next versions
- Bugfixes
- completely signposting
- Buyable forests
- Pedestrian and traffic
- Storage places for fertilizer and seeds
- …
7.) Support:
We will try to answer ANY question about the map. If you write friendly we promise a fast answer.
The place to go for such questions is in general our forum. You can reach it over our website (www.agrarteam-franken.de)
There you can find support and solutions.
And do not forget: This map was created in leisure time! So we hope you have respect about the work! Thank you!
The map can be released on other sites, but ONLY with the original link at agrarteam-franken.de !!
Otherwise, we will take legal steps against this violation! Please have respect!
And now: HAVE FUN at "Stappenbach"! We hope you enjoy the map!
Greetings from Germany,
k1ckz and Agrarteam Franken
Credits
8. Credits
Wir danken allen am Bau beteiligten Personen! Vor allem dem ganzen Agrarteam Franken, welches über Monate hinweg beim Fehlersuchen, Vorbereitungen, Ideen und Texturarbeiten, sowie allen sonstigen anfallenden Arbeiten geholfen hat.
Insbesondere geht unser Dank an Luan von TSL-Modding für den Umbau der Ställe und sonstigen Scriptarbeiten. Ein weiterer Dank geht an Marhu, der uns bei Fragen jederzeit zur Verfügung stand.
An alle Erbauer der verbauten Objekte!
Ein weiteres riesiges DANKESCHÖN ergeht an folgende Modder, die mit ihrem Einsatz den Landwirtschafts-Simulator ungemein bereichern und deren Objekte wir verbauen durften:
"AGI" (Maibaum)
"Basti" (kl. Körnergebläse, Mauern)
"Blacky_BPG, Oekobauer" (GasStationExtended)
"blubber73" (Deckoschilder Wald)
"Bluebaby210" (BuyableObjects, MixFeeder)
"CebuljCek" (Altes Hofgebäude)
"Edel_van_B" (Höhenmodell)
"EIFOK" (Landhandel)
"El_Cid" (Div. Gebäude, Foliages, Hofgebäude, Kapelle)
"El_Cid, Marhu" (Sägewerk)
"Farmer_Andy" (CompostMaster, Güllebomber)
"Fatian, Niggels" (Straßenpaket)
"Foxx" (Getreidesumpf)
"FS-UK" (SoilManagement)
"GIANTS" (Div. Objekte, Grundfunktionen)
"Katsuo" (Schweinestall, Fachwerkscheune)
"Marhu" (DamageMod, FabrikScript, FarmSiloSystem, GMK Mod, Schweinezucht, Viehmarkt, WaterMod)
"martinbigM500" (BGA & Gülleanlage)
"Matti" (Güllebecken)
"Mobbingpapst" (Feldrandgras)
"mor2000" (UPK)
"Mythic" (Halle Händler/Metzgerei)
"Nick98.1" (Schilderset)
"Niggels" (Hochstand)
"NKB Modding" (Agravis Silos)
"Stefan Maurus" (Brücken)
"stefan_ls" (Grabsteine, Mistplane)
"Steffen30muc" (Div. Hallen, Traunsteiner Silos)
"upsidedown" (Multifruit)
"VertexDezign" (AnimationMapTrigger, HardPointExtension)
"vnsfdg1" (Großes Farmsilo, gr. Körnergebläse)
"webalizer_ls" (ChoppedStraw)
"wellano920" (Sportplatz)
Bei allen weiteren verbauten Objekten sind uns leider die Urmodder nicht bekannt. Da wir aber alle Modder für ihre Arbeiten respektieren, würden wir uns freuen, wenn sie sich auf der Karte bei ihren Objekten wiederfinden und sich kurz bei uns melden. Der Modder wird selbstverständlich (wenn gewünscht) umgehend nachgetragen. Wir bitten um euer Verständnis!
changes
24 Jun 19:04

Version 2.1

– Silos nehmen jetzt auch grass_windrow an
– Scheune auf Hof 2 zugänglich gemacht / Silos umplatziert
– Füllmenge der "kleinen" Silos von 20.000L auf 200.000L erhöht
– Siloplatte von "Pension BGA-Blick" leicht erhöht (kein Flackern mehr)
– Fehlende l10n-Einträge für Getreidesümpfe hinzugefügt
– Kaufsymbol bei Wiese 40/43 verschwindet beim Kauf
– Kollision der Pflastersteine am Fussballplatz entfernt. Objekte können jetzt platziert werden
– Brunnen in Dorfmitte nimmt jetzt Goldmünzen auf (Wunschbrunnen)
– Saatgut-Trigger an allen Höfen gefixt
– Schwebender Unterstand an Hof 4 gesenkt
– Grasplanen der Futterraufen (Kuhhof) gefixt
– Silageplanen angepasst (steigen früher an)
– Heizkraftwerk-Bunker bewegt Plane vom Lager nicht mehr
– Einige Verkehrsschilder gedreht und gefixt
– Maschinenhalle auf Hof 3 wieder nutzbar
– Neues Außenlager eingefügt für Rüben und Kartoffeln

17 Jun 22:32

Version 2.0

Hier findet ihr die Verbesserungen / Änderungen unserer Stappenbach V2 gegenüber der V1.
Zahlreiche weitere (nicht aufgelistete) Dinge wurden erledigt. Aber das würde den Thread sprengen.

Kuhhof

Stallinnenleben komplett umgebaut, Bodenplatte, Fressgitter, Futtertrog etc. erneuert damit sich die Kühe ohne Probleme oder einfrieren im Stall bewegen können
Hintere Seitenteile teilweise entfernt, damit die Kühe nicht mehr im "Stau" stehen
NavMesh dementsprechend angepasst
Futtertrog (Weide) angepasst ist jetzt rechts neben dem Stall statt an der Futterreuse in der Weide
Wasserfass angepasst (Kühe frieren jetzt nicht mehr ein)
Allgemein die Animalplaces angepasst damit die Kühe nicht mehr im Trog stehen
Fütterung angepasst, es ist jetzt möglich mit dem Futtermischwagen / Ladewagen zu füttern auch wenn der MixFeeder gekauft wurde!
BGASilos von Heady eingefügt (inkl. neuer Silowände von Alex, danke an dieser Stelle)
Unterstand durch eine schließbare Halle ersetzt
Misthaufen angepasst, Filltrigger (UPK) ist in der Plane verbaut
Lager angepasst (Oat, Rye, Sunflower) wurden ausgebaut, da Sie im FarmSiloSystem lagerbar sind und (Stroh, Gras, Hackschnitzel) wurden eingebaut
Ballenstapel jetzt mit Strohverkauf (lose und Ballen) evtl. wäre hier zu überlegen, ob man am Hof den Preis reduziert ggü. den Verkaufsstellen --> Melle?
Allgemein die Dekoration ergänzt, da dies zur V1 nicht gemacht wurde
Manuellen Milchverkauf eingefügt (direkt am Stall) Verkaufsstelle in Unterharnsbach eingefügt (schräg ggü. der BGA ist beschildert)

Ackerbaubetrieb (ehem. Rindermast 1)

Der komplette Rindermasthof 1 wurde entfernt
Kompletter Neuaufbau eines Ackerbaubetriebes
Anfangsfüllstände befinden sich nun auf diesem Hof in den Getreidehallen, Beladung nur mit Radlader oder Förderband möglich (Danke an Alex für die umgebauten Hallen)
Güllezwischenlager mit Verkauf eingefügt (Prinzip: Umliegende Bauern verkaufen hier ihre Gülle an den Ackerbauern, damit dieser seine Felder auch mit Gülle düngen könnte)
Mistlager mit Verkauf eingefügt (Prinzip wie beim Güllelager)
Stroh und Graslager eingefügt
Großes Ballenlager von Steffen
Waage eingefügt
2 kaufbare Rampen eingefügt

Rindermasten 1 - 3

Die Getreidesümpfe für die Rindermasten haben nun einen animierte Plane erhalten
Die Kartoffelkisten für die Rindermasten haben ebenso eine animierte Plane erhalten
BGASilos von Heady eingefügt
Mistlager komplett überarbeitet, abkippen und aufladen sollte nun von allen Seiten möglich sein
Güllegrube (rundes Becken) ausgetauscht (damit nur noch 1 Modell auf der Karte vorhanden ist, waren mal 3)
Allgemeine Deko überarbeitet und ergänzt, Schönheitsfehler ausgebessert
StationNr. dementsprechend angepasst

Dorfhöfe (Schweineställe)

Animierte Plane im Gebläse eingefügt (wenn die Ställe befüllt werden hebt und senkt sich eine Plane im Gebläse)
Animierte Erdfruchtplane (Heap verbaut hebt sich und senkt sich)
Kleine Fahrsilos (die überhaupt nicht funktionierten) durch Headys BGASilos ersetzt (Skaliert) damit es zu einem kleinen Hof passt
Getreidesümpfe sind nun mit dem AnimationMapTrigger versehen und öffnen nicht mehr automatisch (Danke an Niggels)
Allgemein Dekorationen überarbeitet und ergänzt
Manurepit eingefügt (neue Güllegrube von der Holzhausen) (Danke an Niggels)

Sägewerk

Hackschnitzel Auswurfpartikel angepasst
Hackschnitzelhaufen beim Sägewerk angepasst
Heizkraftwerk angepasst, dieses kann jetzt auch mit der Schaufel befüllt werden
Hackschnitzellager am Sägewerk ist mit den Anfangswerten gefüllt
Unterstände durch eine Halle ersetzt

Händler

Fälschlicher Weise importierte Storplaces entfernt (Maschinen dürften nun auf keinem Feld mehr spawnen)
RepairTrigger von Marhu entfernt (Ist einfach zu krass das Ding und verursacht Fehler wenn man darin aussteigt oder durchläuft)
Geldautomaten eingefügt
Deko und ein paar optische Dinge wie z. B. die Bodenplatte eingefügt

BGAs

BGASilos von Heady eingefügt
Paar Kleinigkeiten geändert
Beleuchtung

Güllelager 1 + 2

Beide vollständig ersetzt bzw. umgebaut auch die Funktionen wurden überarbeitet

Allgemein

ClipDistances sämtlicher Objekte überarbeitet und individuell angepasst (Habe hiermit fast 2 Wochen am Abend verbracht um alles individuell anzupassen, sprich ich bin nicht stumpf vorgegangen und habe die oberste TG angepasst so dass beispielsweise alles eine CD von 200 hat nein, ich habe zum Beispiel bei Ställen die Stroh oder Mistplanen individuell angepasst, da man sie ja nur im Stall sieht, die Hülle, also das Gebäude ist natürlich weiter entfernt zu sehen. Was ich damit sagen will ich habe versucht die Karte so einzustellen, dass sie bestmöglichst läuft aber kein Unterschied festzustellen ist. Es waren hunderte Objekte mit einer CD von 1000000 in der V1 vorhanden, was wahrscheinlich bei den meisten zu FPS Drops führte. Ich fress glaube ich einen Besen, wenn das Teil jetzt nicht rennt. Die Karte muss jetzt eigentlich perfekt laufen.
Feldkaufsschilder eingefügt und an den Feldeinfahrten positioniert
MapBuyableObjects: unsichtbare Collisionen durch Barrieren ersetzt (geschilderte FPS-Drops durch User sollten nun Geschichte sein)
MapBuyableObjects: Kauficons ersetzt
MapBuyableObjects: Feldgrenzen (aktuell nur Wiesen) kaufbar --> Festlegung durch Melle, danke dir.
MapBuyableObjects: Freifläche erstellt (Man kann den Sportplatz jetzt kaufen bzw. "abreißen" lassen und es entsteht eine gepflasterte Fläche, habe das für die kaufbare Objekte Heinis gemacht )
MapBuyableObjects: XML angepasst (Danke an Matze und Max)
Saatpaletten durch neue von MartinBigM ersetzt
Kalk- und Fertilizersilos bei Baywa und Agravis aufgestellt --> dort kaufen und am Hof in den Hallen einlagern
Verkaufspreise sollten nun an den verschiedenen Verkaufsstellen unterschiedlich sein (Danke an Melle)
Verkaufspreise Rinder und Schweine angepasst (Danke an Melle)
Sonnenblumenertrag angepasst (Danke an Matze)
2-3 Häuser mit fehlender Textur angepasst
Straßenlaternen eingefügt (Nightlight2)
Diverse Deko im Dorf gelöscht und teilweise ergänzt (z. B. Kanaldeckel)
Fußgänger hinzugefügt
Beschilderung eingefügt
Grasschwadtextur geändert

07 May 15:03

Version 1.0
Files
| | |
| --- | --- |
| checksum: | 07dfcfc373b4ef480bba858649ba539b |
| Version: | 2.1 |
| multiplayer ready? | yes |
| Author: | k1ckz/AT-Franken |
| price in shop: | LS |
| name in shop: | Stappenbach |
| description in shop: | Stappenbach - Eine Welt voller Möglichkeiten. |

Do you think this mod should be featured?
}